SHARING HER WAY TO HAPPY CLIENTS: COLLEEN PRIMM DESIGN
Meet Colleen Primm, owner and interior designer at Colleen Primm Design. She started her career in the financial industry but always had a passion for interior design. Since starting her design firm, Colleen has been featured in Cleveland Magazine and has made television appearances on New Day Cleveland. Being featured on TV and in magazines has allowed Colleen to share her knowledge of design and help families realize the true potential of their spaces. Whether that be through an updated window treatment or a full kitchen renovation, Colleen is always looking to make the design process as fun and stress-free as possible.

Colleen poses the question, "what would your house look like if your best friend was an interior designer?" This is the heart of what inspires Colleen. Offering design advice and looking to help people wayfind through the design process. Her Facebook group, Primm and Proper Design Talk with Colleen Primm, is an open invitation for learning and guidance. Colleen hosts Facebook Live events, Ask a Designer Q&A sessions, holds contests, and looks to share all of her design knowledge with her community.
When Collen isn't sharing her design knowhow, she's busy creating beautiful spaces for her clients. "I love clean and classic spaces. I work with families to make their homes more beautiful, but also more functional for where they are at in their lives. All the spaces I design are with the intention that nothing is too delicate to touch and ever person would feel comfortable in the space, from a 2 year old to an 82 year old," says Colleen.
Following her love of clean and classic design, Colleen opted for HanStone Quartz Calacatta Gold and Strato for a recent renovation. "The projects started when the home owner was in quarantine due to the pandemic, and realized the layout of their space just wasn't working anymore."
Starting in the bathroom, there was a need for a refresh. Using hues of blue, white, and a slight pop of color, Colleen was able to tranform this bathroom into a breath of fresh air. Tying it all together is the HanStone Quartz Calacatta Gold vanity.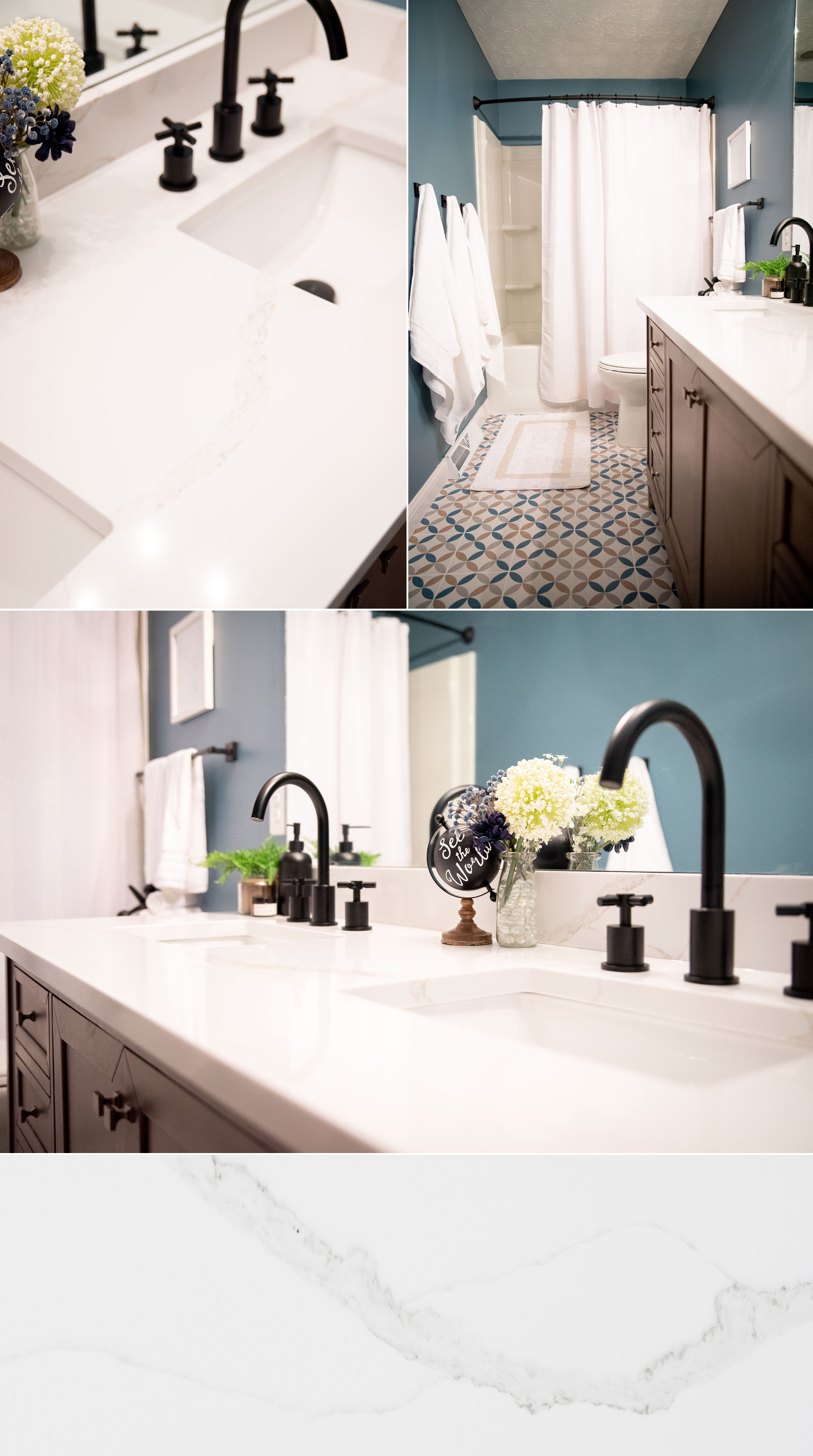 Keeping with the bright and airy feel, the kitchen was in need of reconfiguring. "The homeowner was wanting a large kitchen island to have a place to gather at plus a homework spaces for their kids," says Colleen. Creating a massive, functional island with seating, the open concept allows everyone to gather in this beautful space. Using HanStone Quartz Strato, the warm viening works beautifully to help balance the dark wood floors. This kitchen is an absolute show stopper!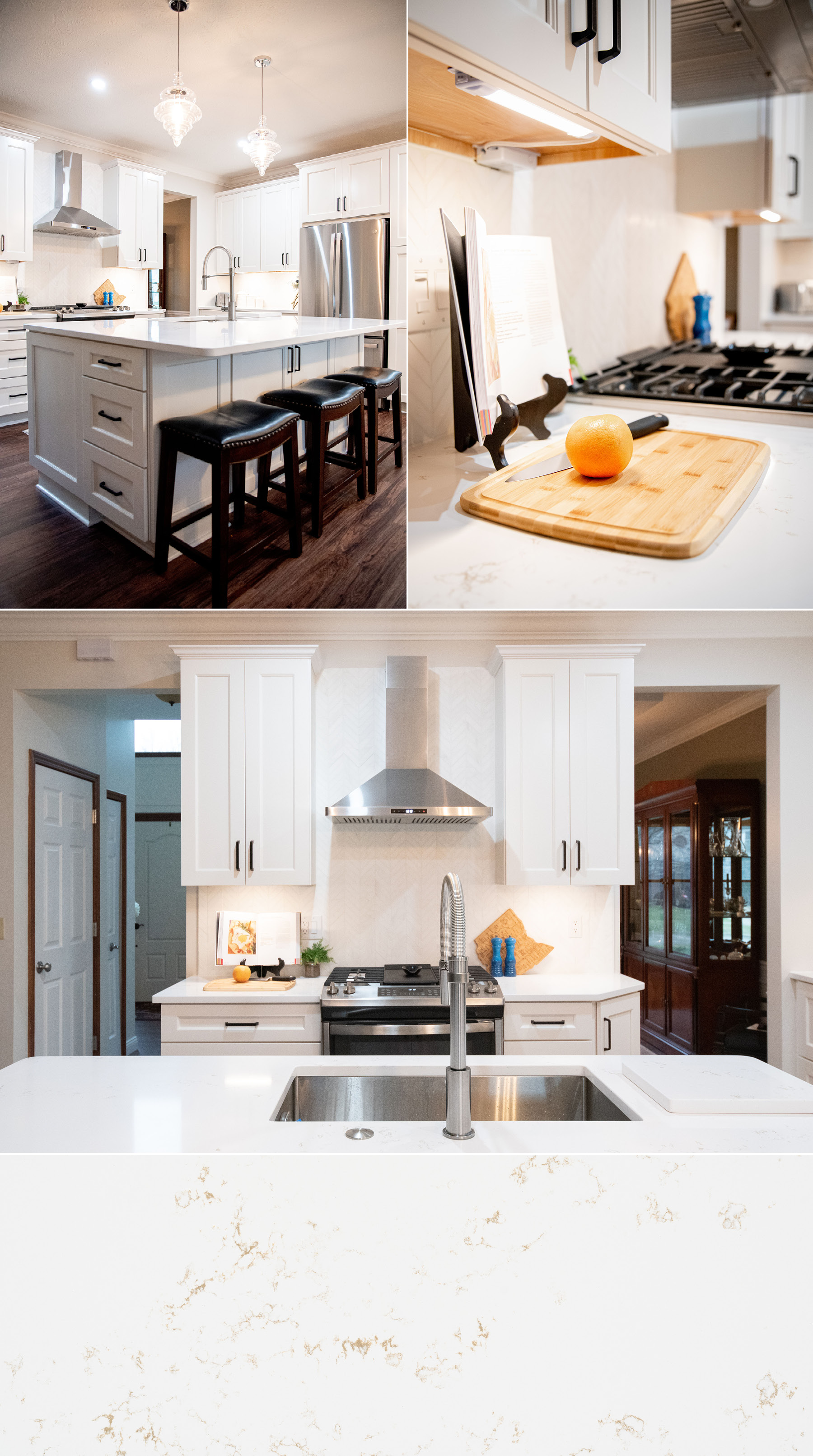 These two projects from Colleen Primm turned out beautifully! For Colleen, "Living Beautifully" means comfort. "When I recommend HanStone Quartz to my clients I know that it's the perfect material for making cookies on with their kids or sharing a glass of wine with their friends," says Colleen.
If you're interested in seeing more from Colleen, click here to visit her website! If you're interested in using these colors for your next project, click here to find a dealer near you!
Hyundai L&C Colors
Colors to complement Every Lifestyle
Life is too short to be boxed in. Whatever your personality, there's a perfect color for you. Endless options to complement any space, and to let you be you. Explore our HanStone Quartz and Hanex Solid Surface colors today.