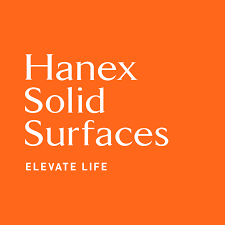 Elevate Life
We all need more beauty in our lives, especially where we spend most of our time – where we live, work and play. Hanex surfaces are both transformative and practical. We put a lot into our Hanex Solid Surfaces. And it shows.
Cascade + Venato
New from Hanex
A sophisticated take on Hanex Solid Surfaces. Explore the possibilities.
Continuing Education
Explore our new continung education resource page. Featuring CEU courses, white papers, and more.
Sheets as Wide as Texas
Now available in 60" wide sheets
Featured Colors
With dozens of colors from which to choose, it's hard to select our favorite. Here are just a few that we love to get your imagination started.
Find a Dealer
Showing dealers, fabricators, and showrooms near 30071.
Hanex Applications
With its resistance to stains, impact, heat, and wear, Hanex is ideal for a wide variety of horizontal and veridical applications in both commercial and residential applications. Our wide sheet capabilities, available in select colors, allows for installation that is more efficient and results in less waste than standard width sheets. Most importantly, every Hanex solid surfaces can be easily repaired and restored to its original condition. Engineered like nature intended. Only better.
For Trade Professionals
Striving to make life easier, we have dozens of helpful downloadable resources, product samples, and of course, unmatched support – everything you need to design and install our full line of products. Get access to our full Media Library and on-demand advice from product experts. Having our product samples at your fingertips makes choosing the perfect design easy, and you can compare specs and warranties quickly. Remember, our customer support team is always on hand for any questions. So, contact Hanex today for the start of a beautiful relationship.