The Quartz Countertop Craze
Before getting started on any project, the first thing most people do is research. What's the best material? What's trending? How does this surface hold-up? These are all critical questions to ask, and thanks to Kitchen and Bath Magazine (KBB), the official magazine of the National Kitchen and Bath Association (NKBA), we're able to see in detail what's going on in the countertop industry. KBB recently conducted a "Deep-Dive" study on countertops using insights from over 500 kitchen and bath professionals.
"When it comes to countertops, there are several factors to take into consideration, including price, durability, maintenance level, aesthetics and hygienic properties," says Chelsie Bulter, Executive Editor, KBB. Just over 25% of individuals say that durability and maintenance level are important factors when determining which surface best suits their customers' needs. The biggest factor is aesthetics, which tops the list at 36%. Price is a lower factor when making countertop decisions, coming in at 11%. "For designer Jeannie Fulton, CKBD, of Ridgewood, NJ - based Ulrich Inc., ease of maintenance is the most important aspect when it comes to choosing a countertop material for her clients, as no one wants to purchase something that requires long-time care," says Chelsie.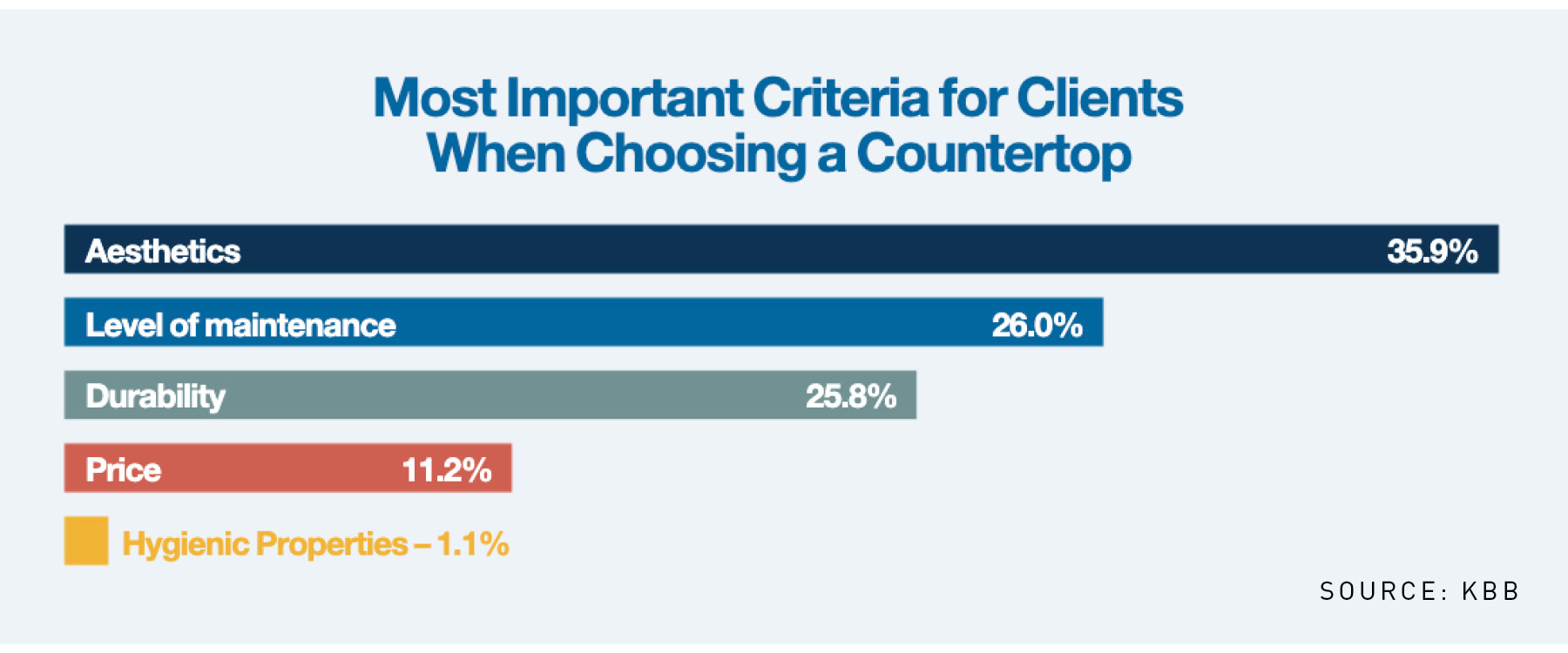 With aesthtics being the biggest decision factor, what does that mean in terms of color? According to the study, 64% of people said white countertops are the most popular. Multi-colored countertops take second place at just over 21%. "They [customers] are also looking for warmer colors that better reflect natural stone," says Chelsie.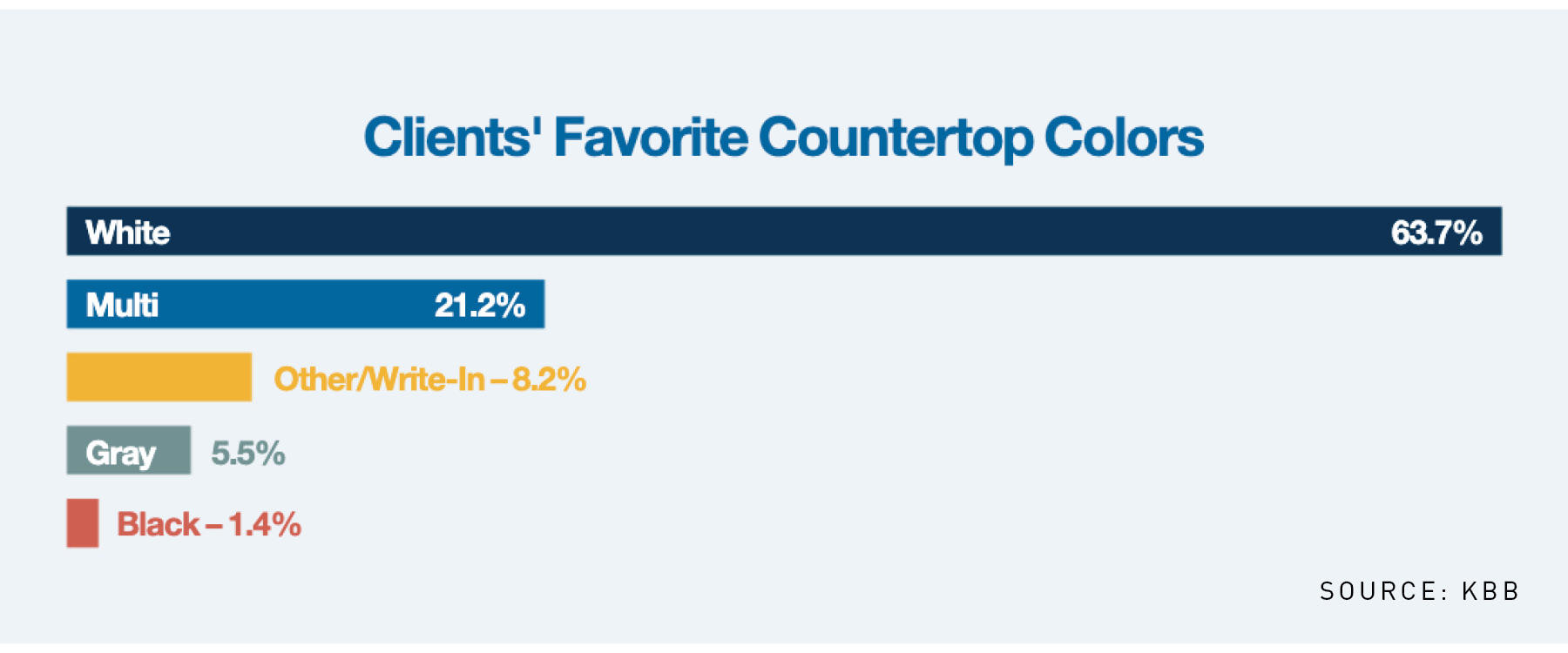 So now the real question is, "which countertop is most popular?" 58% of respondents specified over 11 different types of countertop material. Those include quartz countertops, granite, solid surface, marble, quartzite, and a handful of others - making up less than 11% of the materials specified. "Quartz countertops are the clear winner in bathroom (49%) and also takes the top spot in kitchens (28%) - with granite at second at 23%," says Chelsie. It's no surprise that quartz countertops take the top spot given all the advantages quartz countertops offer. Heat resistant, stain resistant, scratch resistant, easy maintenance, and non-porous/hygienic. These are all the incredible benefits that quartz countertops have to offer, and quartz countertops are a material that will look brand new many years after the completion of the project with simple, routine cleaning.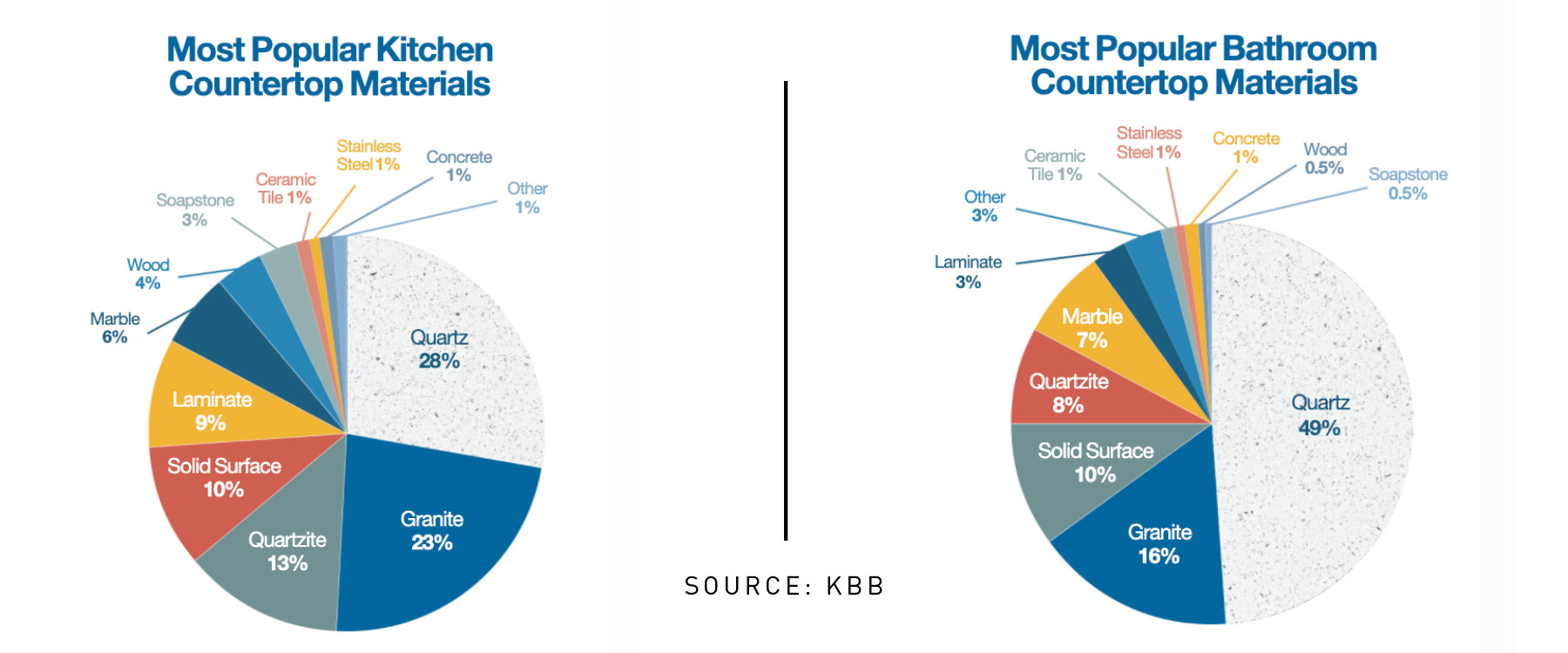 When KBB looked at the most popular color of quartz countertops, White quartz countertops are still the most popular color of quartz. HanStone Quartz offers one of the widest selections of white quartz countertops in the industry. See them here.
The last questions KBB asked the 500+ respondents were regarding the future of countertops. "With quartz gaining in popularity, there is a need in our industry for more marble-look options at various price points," says Chelsie. Many people are also looking to see quartz be made more affordable. When compared to natural materials, it's still far less expensive, but being able to possibly see more standard size or smaller slabs would be beneficial for both fabricators and customers to avoid paying for full slabs on smaller jobs.
If you're interested in reading the full deep-dive study done by KBB, click here. If you're interested in looking at the HanStone Quartz product line-up, click here. If you want to learn more about quartz countertops and be inspired by real projects, click here.
Hyundai L&C Colors
Colors to complement Every Lifestyle
Life is too short to be boxed in. Whatever your personality, there's a perfect color for you. Endless options to complement any space, and to let you be you. Explore our HanStone Quartz and Hanex Solid Surface colors today.