HISTORIC HOME REFRESH WITH JAMES JUDGE
Self-proclaimed "house-a-holic", designer and realtor James Judge has taken an outdated 1930s home and turned it into a downtown Phoenix showstopper. James specializes in design solutions that breathe new life into tired, outdated spaces by using the home's existing features to maximize the innate design aesthetic that, he believes, it was always meant to have.
Fast-forward to his most recent renovation – James had a very important client for this project. Himself! This home – cleverly named "the Woodward house" for its location on Woodward Drive in historic Midtown Phoenix – was purchased in 2017 and renovated in 2020. James and his husband, Andy, have always admired this property and location. Having already remodeled several other houses in the area, James saw this as a "grand finale" for the historic neighborhood – eventually gaining historic designation status.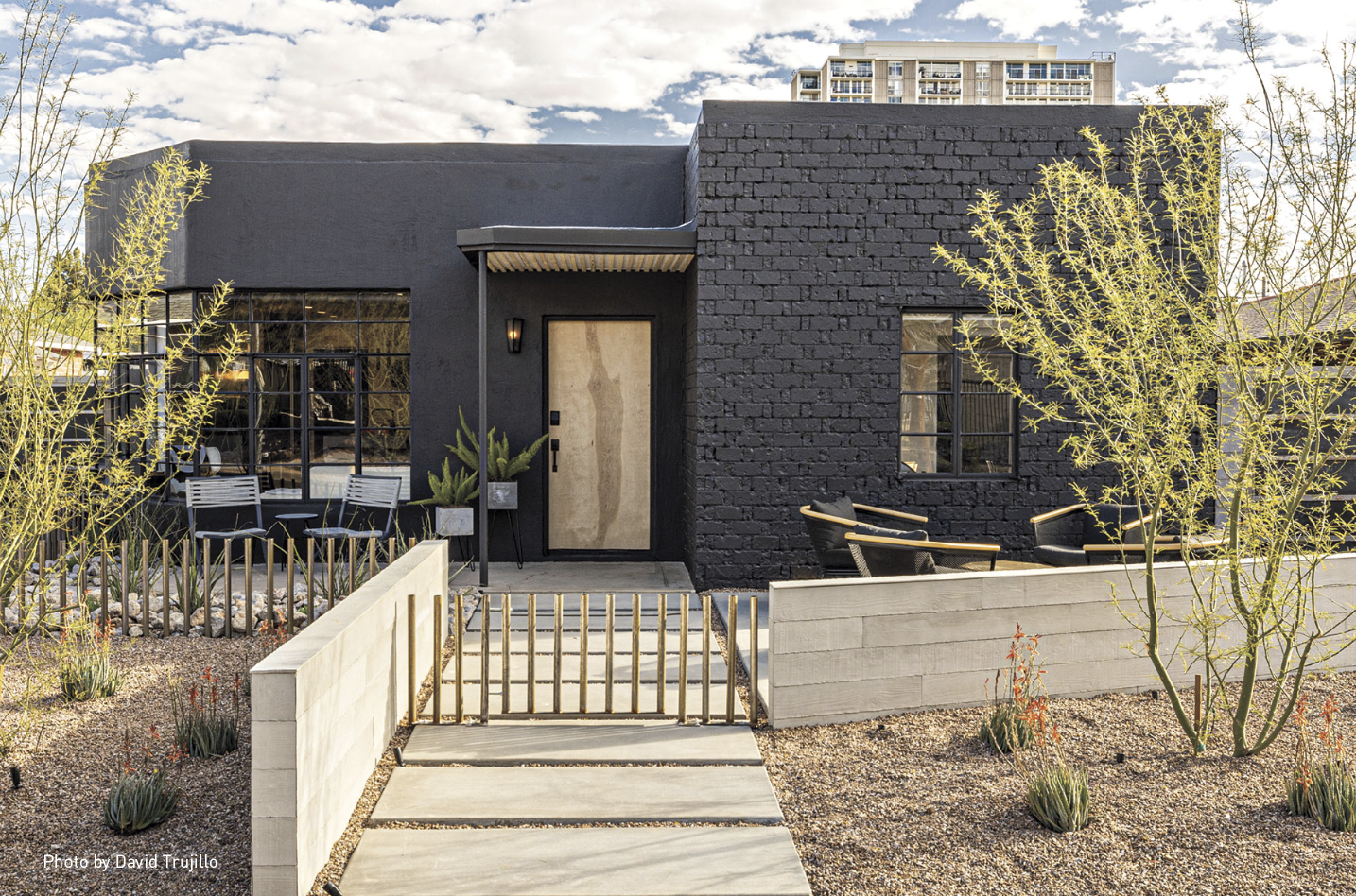 This home has been totally overhauled including a new exterior, kitchen, bath, living space, bedroom, and more. "We brought in a lot of elements that we thought could unify the whole design," Judge says. "For example, a wood-slatted detail on the ceiling above the door to the front porch is the beginning of the theme that runs throughout the entire floor plan. It goes from the front entry into the living room, throughout the bedrooms, into the new addition, all the way out to the pool shelter and into the back of the home. It's a visual element that unifies the entire property."
Another visual unifier is the moody, dark tones found all throughout the home. The kitchen being one of those places. Strong, bold, and confident – this kitchen's unique features and special design elements makes this a one-of-a-kind space. Some of those being the quartz shelf located above the range, the quartz countertop waterfall edge, and the gorgeous quartz backsplash. The countertops are HanStone Quartz color Storm, and this design features HanStone's exclusive River Washed finish, giving it a unique look and texture.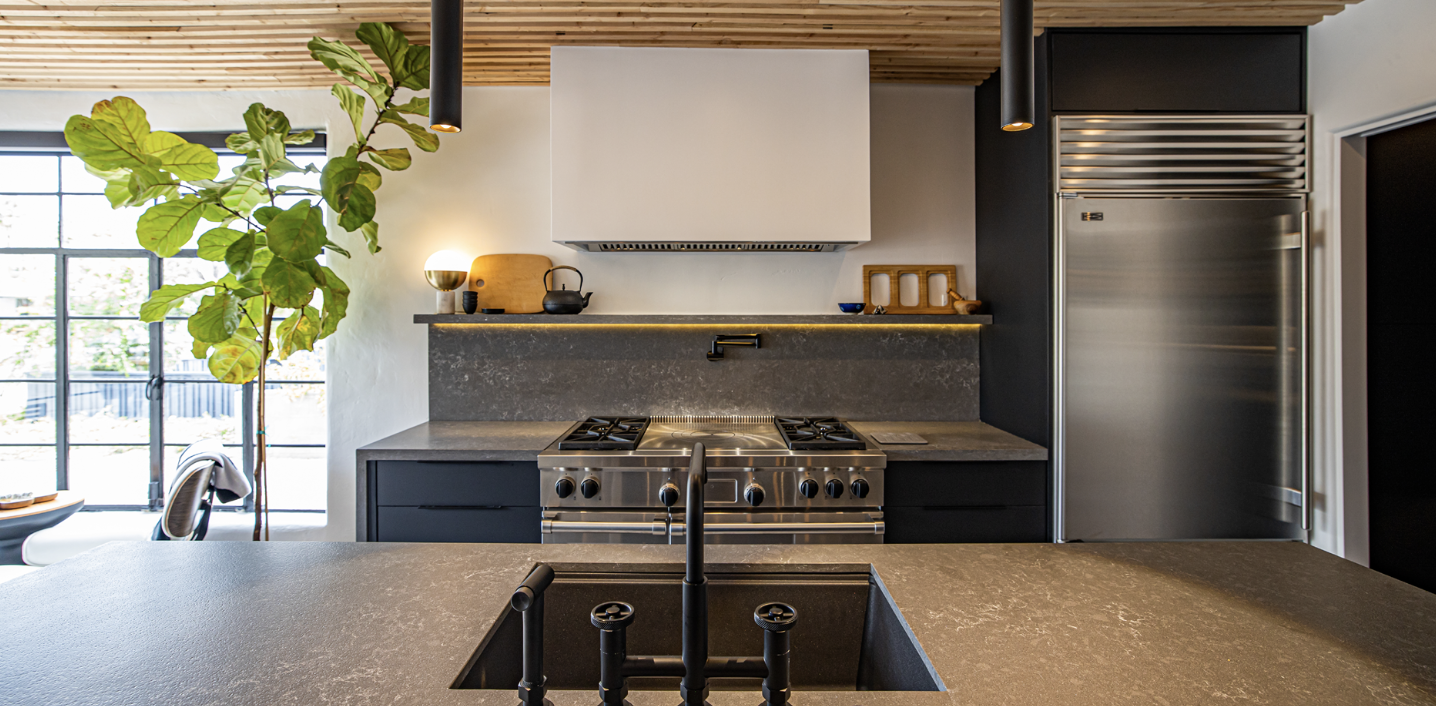 HanStone Quartz is found all throughout the kitchen giving this space an incredibly clean and cohesive look. A trend starting to be seen in kitchen design, is a quartz backsplash. "In this home design, I used a HanStone Quartz countertop to create continuity, even with the backsplash, by bringing the countertop up the wall. That also allowed for a functional and chic kitchen shelf," says James. The quartz shelf allows for a beautiful yet functional place to display treasured items and decorate your space so that you can pull in design elements found throughout the home and bring them into your kitchen. This creates visual unity from room to room.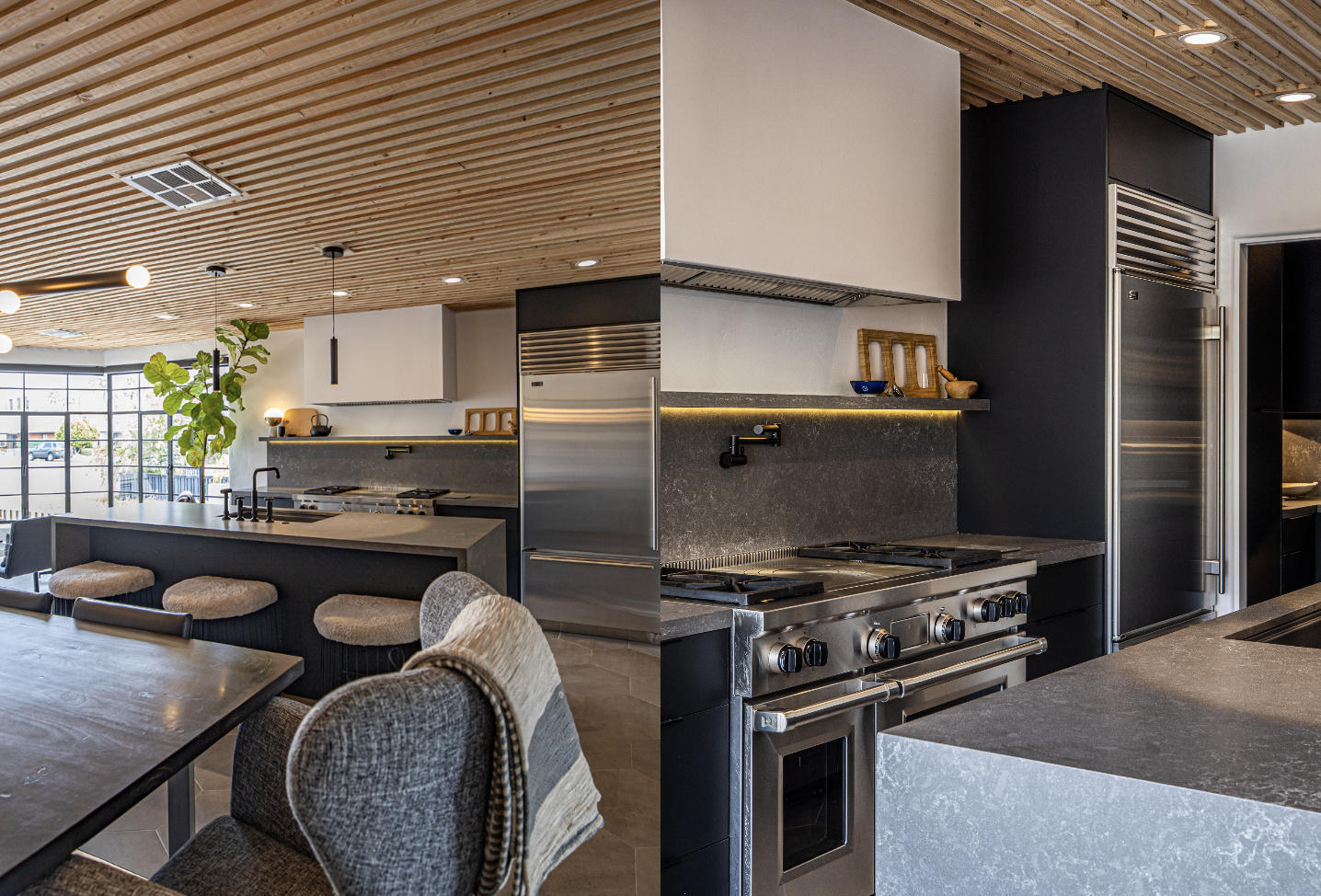 To read more about why James selected HanStone Quartz, click here. If you're interest in using Storm in your project, click here to order a sample or visit a dealer near you.
Hyundai L&C Colors
Colors to complement Every Lifestyle
Life is too short to be boxed in. Whatever your personality, there's a perfect color for you. Endless options to complement any space, and to let you be you. Explore our HanStone Quartz and Hanex Solid Surface colors today.