TRENDING NOW: The Brownstone Boys Go Bold
There is good design and then there is GREAT design, which can evoke an emotional response. Our home reflects who we are and is immensely personal. Bathrooms, where we renew ourselves. Kitchens, where we provide nourishment to those whom we cherish the most. We must begin by asking "How do I want to feel in this space?" Calm, peaceful, confident, or fearless. In their most recent project, the Brownstone Boys made the design decision to leave "average" at the door. Opting for bold and striking colors and finishes, the Brownstone Boys chose to be fearless, and it's paid off in this stunning kitchen.
When thinking about 'fearless' design, it should take you to simpler times, fearless explores the freedom of youth. Striking, colorful hues evoke memories of one's childhood, resulting in creative and expressive spaces packed with personality. Featuring Montauk by HanStone Quartz, this kitchen does just that. Because of Montauk's natural marble look, it able to be brought into almost any space to balance the playful and bold colors and details that may accompany it.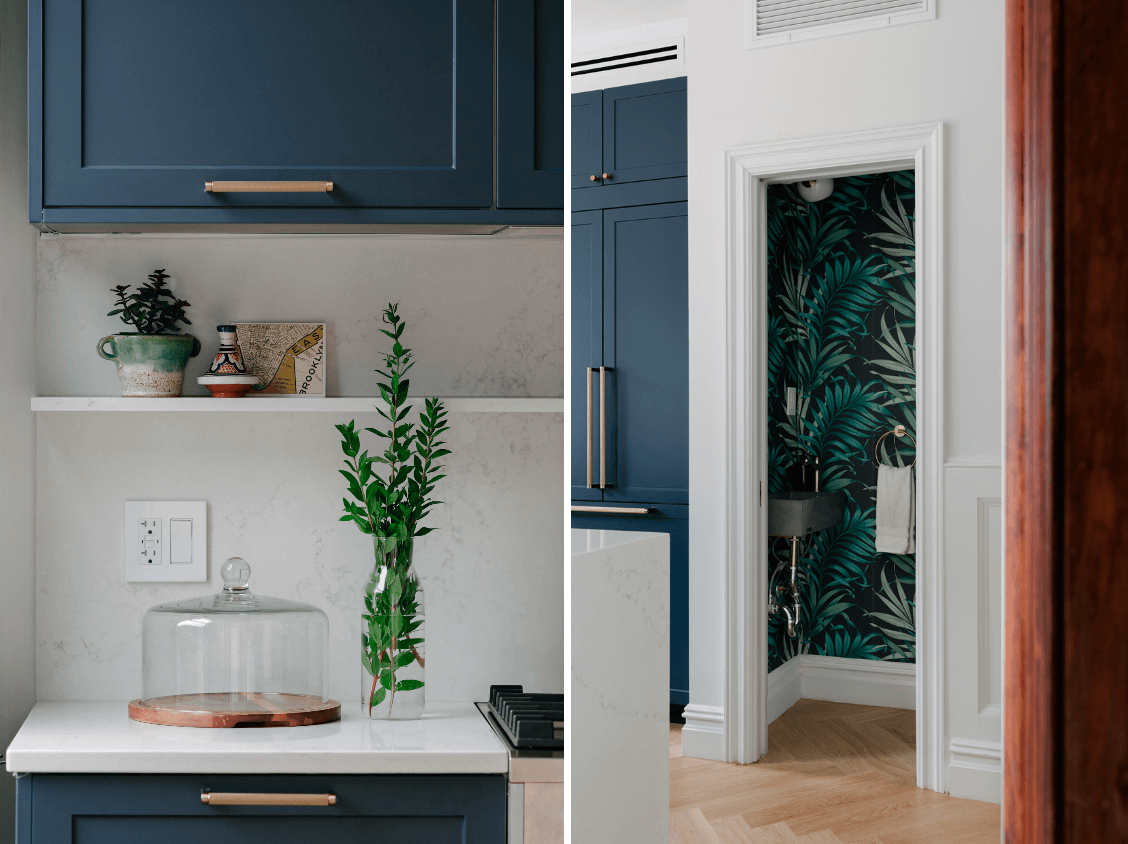 In this kitchen the bold, navy-blue cabinets work effortlessly with the quartz countertops. And add in the touch of gold with the hardware and this space is elevated to a new level. The pops of color and texture found in the leather barstools and wallpaper in the powder room help tie this entire space together adding even more to its fearless design.
Some special characteristics of this kitchen also include the quartz backsplash and quartz shelf. Using quartz as a backsplash helps create a modern, seamless look all while keeping the incredible benefits of quartz countertops. As for the shelf, this is one of the newest trends in kitchen design. A quartz shelf, like the one in this kitchen, allows for the ability to bring personality into the space. Display family photos, knick-knacks, cookbooks, or anything else you want to showoff. These curated shelves blend into the design and give you freedom to add a touch of 'you' into the space without extra distractions.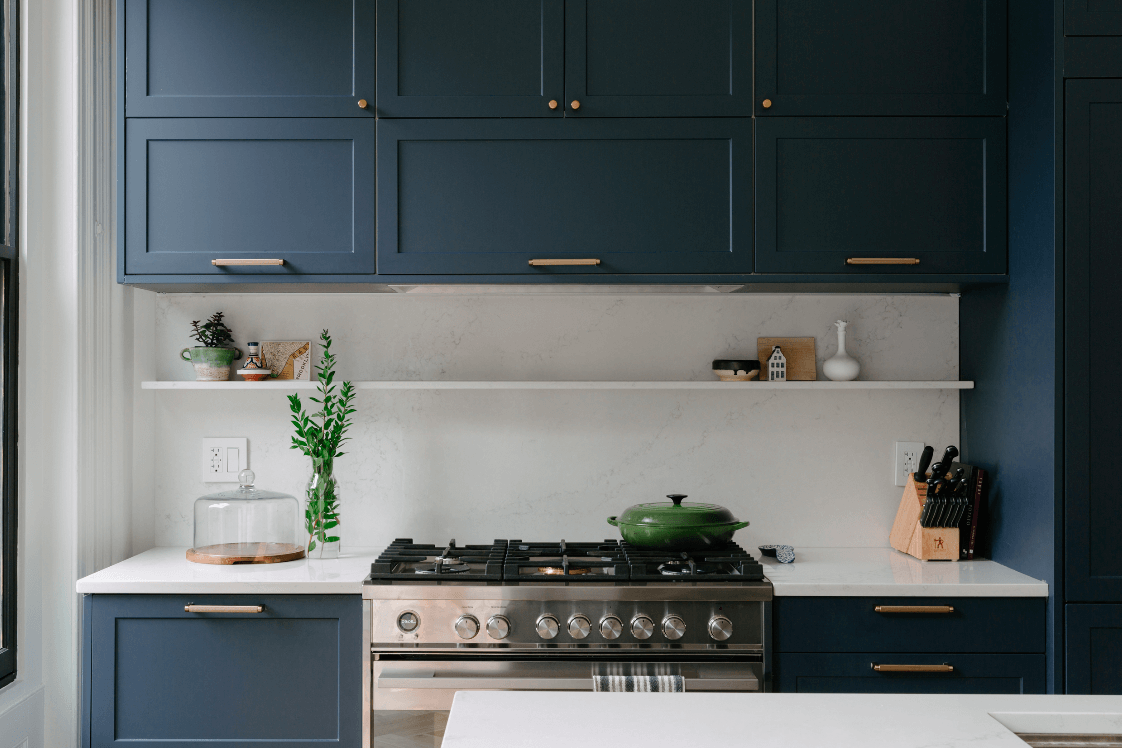 The way one feels in a space is incredibly personal. We understand that our products are not the focus of your space. Choose your palette and let us guide you in selecting the best quartz design that will blend effortlessly with its surroundings, creating balance and harmony in your space.
Interested in more? Check out this other Brownstone Boys project featuring HanStone Quartz.
Hyundai L&C Colors
Colors to complement Every Lifestyle
Life is too short to be boxed in. Whatever your personality, there's a perfect color for you. Endless options to complement any space, and to let you be you. Explore our HanStone Quartz and Hanex Solid Surface colors today.