Top 3 Reasons Why Quartz is the Perfect Countertop Material
Most countertops require maintenance. But there's already so much going on in our daily lives, and the last thing we want to do is spend a lot of time on countertop maintenance. That's where quartz steps in. Quartz is a durable, natural material that requires little to no maintenance aside from a typical post-dinner wipe down.
HanStone Quartz allows you to live hard. It's okay if the wine spills or the spaghetti sauce strays from the plate. Here we'll discuss the top three reasons why quartz is the perfect countertop material.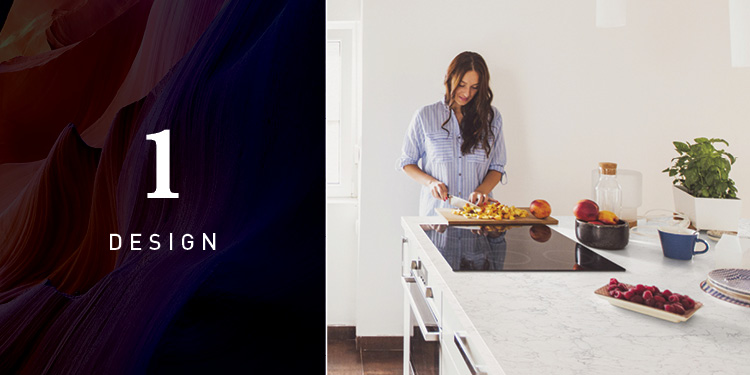 Regardless of material, the number one thing people want in their dream kitchen is a product that looks beautiful. Fortunately, with quartz countertops you don't have to cross your fingers and hope that your selected slab is going to have the veining you like or be that perfect shade of white to compliment your cabinets. HanStone Quartz is an engineered material created from 93% high-quality raw quartz and 7% resin binders and pigments. All that means is that HanStone Quartz is designed to look like a naturally occurring material, but without all the imperfections. Choose from crisp, clean whites, to beautifully intricate and subtle veining, something dark and bold, or a delicate warm tone with sophisticated movement. The choice is yours, and you can achieve the look you've been dreaming of.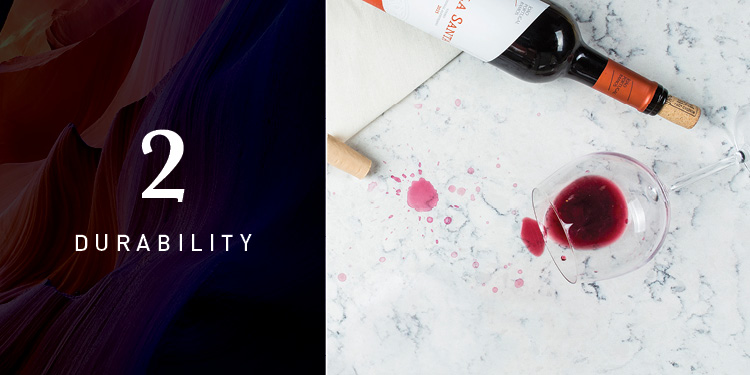 Now just because quartz is beautiful doesn't mean it's not durable. Scoring a 7 out of 10 on the Mohs Hardness Scale, quartz is the fourth hardest crystalline mineral on Earth. Because of this incredible durability, quartz allows you to use your kitchen as if it were a 3 Michelin Star restaurant. Heat resistant up to 300 degrees, scratch resistant, and the biggest plus of all, stain resistant – HanStone Quartz countertops allow you to feel at ease when an inevitable accident happens. The durability of quartz countertops is unrivaled in the countertop industry, and the days of stress and constant cleaning are in the past thanks to quartz.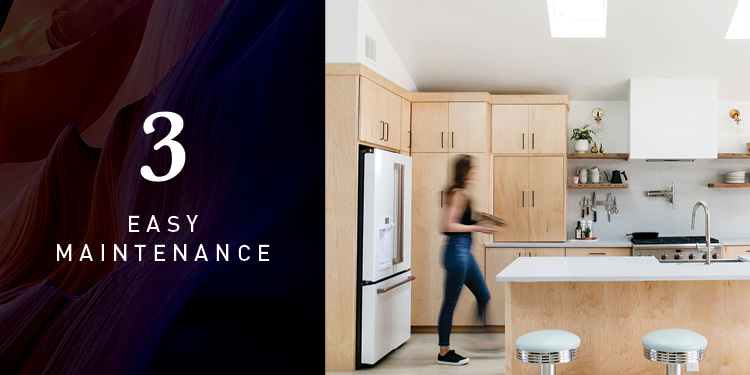 Quartz requires virtually zero maintenance other than simple routine cleaning. Because quartz is a non-porous surface, daily maintenance is simple and quick. Wipe down with mild soap and water and you're good to go. It's almost too easy. Quartz countertops don't require sealing, and they're not going to peel, or change over time. HanStone Quartz is designed and engineered for high-traffic areas, knowing that accidents will happen and when they do, you don't have to babysit your countertops with deep-cleaning and Pinterest cleaning "hacks". Refer to the HanStone Quartz Care & Maintenance Guide to help answer any maintenance questions you may have.
When it comes time to pick your countertop material for your project, see how quartz can help you make the kitchen of your dreams last well into the future. At HanStone Quartz we're committed to helping you Live Beautifully, whatever that means to you. Check out our full color palette, order samples, or find a HanStone Quartz dealer near you today.
Interested in learning more about the differences between quartz and granite? Check out this article.
Hyundai L&C Colors
Colors to complement Every Lifestyle
Life is too short to be boxed in. Whatever your personality, there's a perfect color for you. Endless options to complement any space, and to let you be you. Explore our HanStone Quartz and Hanex Solid Surface colors today.