The Solid Surface Solution for Educational and Healthcare Spaces
Architects and designers have searched for better worksurface options for healthcare and educational settings for decades. Unfortunately, the usual suspects such as laminates, tile, stone, and even concrete simply can't provide the proper, non-porous surface required by schools and healthcare providers.
While non-porous, laminates also provide seams and edges where dirt and germs can establish a foothold. The adhesives used to bind the substrate (typically either MDF, particleboard, or plywood) and to adhere the laminate can contain formaldehyde and other VOCs (volatile organic compounds).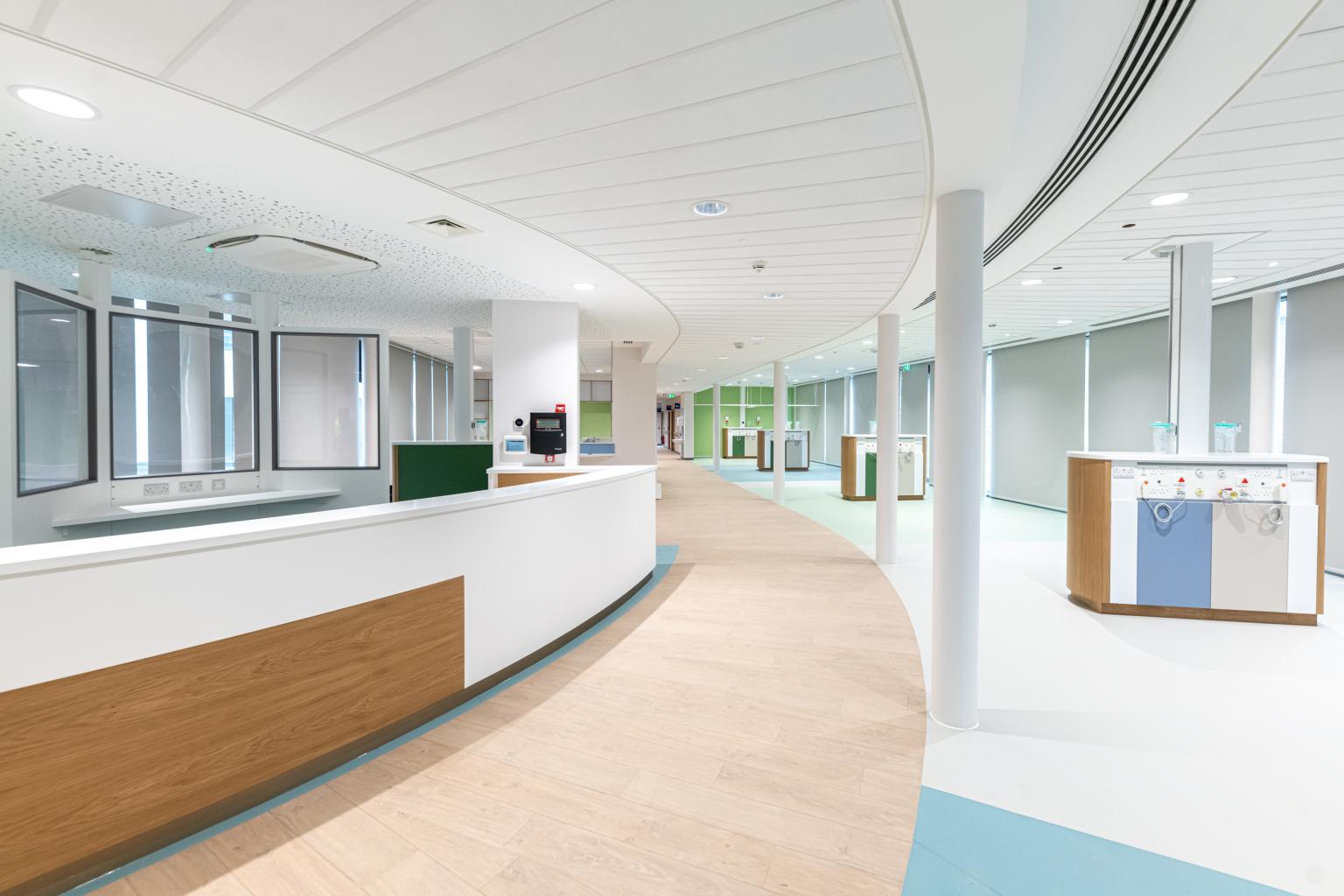 Tile, stone, and concrete are durable but highly susceptible to staining and require a seal coat to provide a non-porous surface. However, regular cleaning eventually wears away the seal coat, requiring constant reapplications to remain effective.
The Zero Maintenance Non-Porous Surface Solution
The biggest drawback to the options listed above is that none provide all the features that educational and healthcare users require.
Non-porous – the surface is stain, odor, heat, bacteria, and scratch-resistant
Low maintenance – a durable surface with no sealing required
Virtually seamless – makes regular cleaning and disinfecting procedures fast and easy
You might be thinking that such a product doesn't exist yet, but you'd be wrong.
This product goes back to 1963 when DuPont Labs was busy developing a different product. The lab guys found that by mixing an acrylic-based resin with ATH, they could eliminate any air bubbles to create what eventually became known as Plexiglass®.
Acrylic-based resin is a significant component for almost any product requiring durability and flexibility. ATH stands for Aluminum Trihydrate, which has water repellant and flame retardant properties. After final processing, the ATH powder gets added to the acrylic-based resin creating a superior solid surface material.
One of the lesser-known perks is that the ATH composition of natural minerals with acrylic-based resin makes the finished product thermoformable (bendable after heating) and easily cut and shaped using standard wood tools.
Using Solid Surfaces in Educational and Healthcare Spaces
Seeing a Hanex Solid Surface installed in a residential setting should not come as a surprise to anyone. Designers and builders have been using our solid surface products to provide stunning countertops, and glamorous shower surrounds for years. But that's just scratching the surface of what's possible with Hanex products.
Horizontal uses: Desktops | Tabletops | Workstations | Shelving | Food prep | Lab surfaces | Benches
Vertical uses: Shower and tub walls | Hallway and stairwell wainscoting | Backsplashes | Bathroom stall partitions | Feature walls | Fireplace surrounds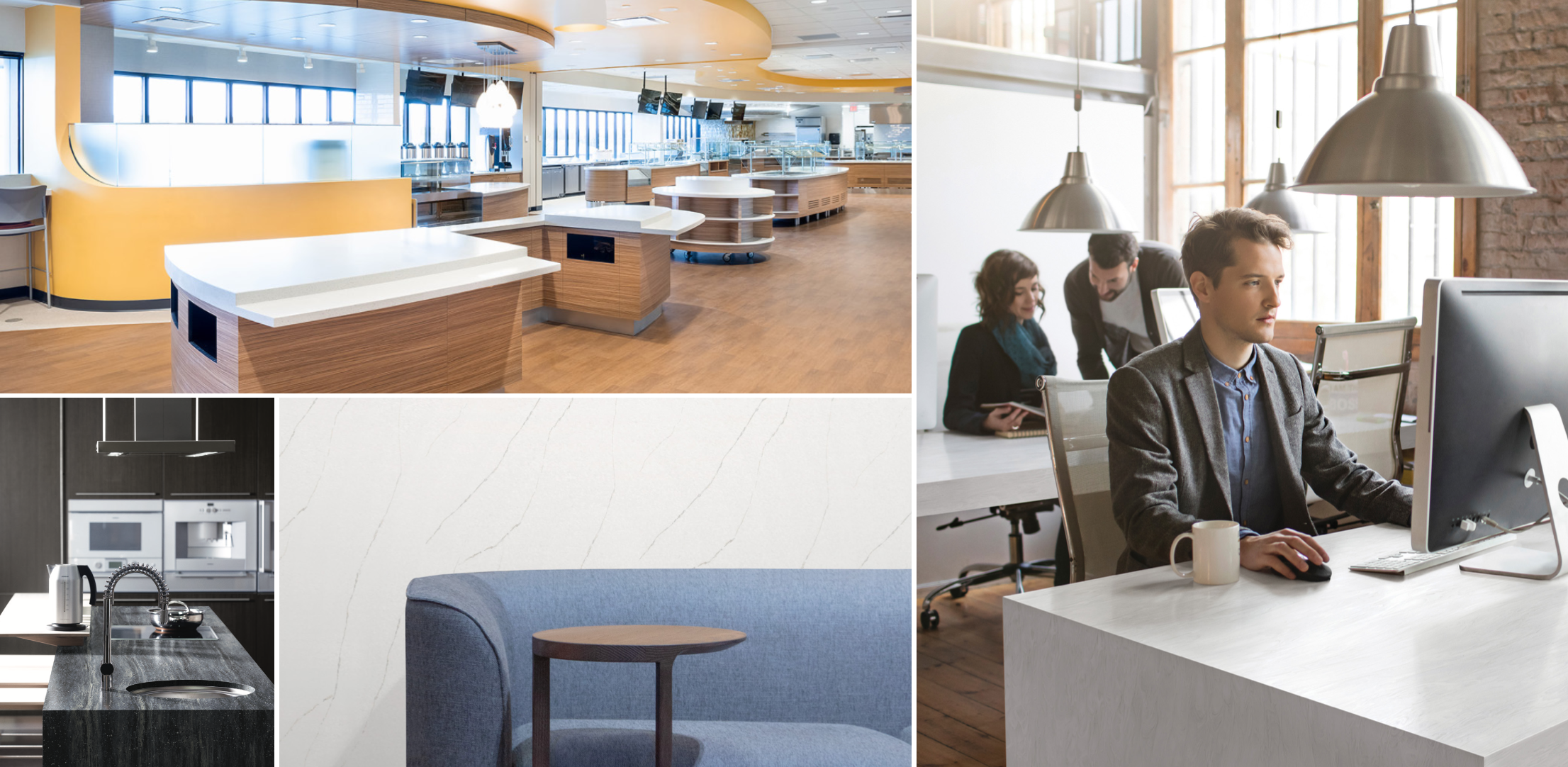 All our solid surface sheets work with any architectural style remodel or new construction project. You can choose from a solid color, veining and/or movement options to add texture, depth, and style to an otherwise utilitarian design.
Hanex Solid Surface Products Technical Data
Hopefully, we've already gotten your designer gears spinning about incorporating our solid surface products into your next educational or healthcare project. If not, here are some additional features and technical data for your consideration.
Rated NSF 51 for food prep and kitchen areas.
Greenguard Gold certification by the USGBC and UL.
All Hanex Solid Surface (and Hanstone Quartz) products qualify for HPD designation, contributing to LEED points under LEED v4 requirements.
Standard sizes range from 1/4 -1/2" thick, lengths of 98-144" and 30" standard width.
Custom sized panels are now available up to 60" wide.
Countless edge profiles
Should you have any questions about our Hanex Solid Surface products, don't hesitate to contact us directly.
Hyundai L&C Colors
Colors to complement Every Lifestyle
Life is too short to be boxed in. Whatever your personality, there's a perfect color for you. Endless options to complement any space, and to let you be you. Explore our HanStone Quartz and Hanex Solid Surface colors today.