Pros and Cons of Quartzite: Why This Natural Stone is Gaining Popularity
Pros and Cons of Quartzite: Why This Natural Stone is Gaining Popularity
The world of interior design sees several trends come and go each year. When it comes to creating a space that is beautiful, elegant, stylish, and yet practical, quartzite stone has become increasingly popular in many modern homes.
Today, we will explore some of the pros and cons of quartzite to help you understand why investing in this material can be an exceptional choice for your home improvement project.
What Exactly is Quartzite?
A natural stone, this metamorphic rock forms from sandstone put under immense heat and pressure under the Earth's surface. The result is a dense, hard, and incredibly strong stone. Its strength is not the only reason it has become a popular choice for many homeowners.
Paired with its durability, quartzite's unique patterns through the quartz crystals and various colors in delicate shades of white, silver, gold, pink, and reddish-brown make it a coveted material for the modern home. This section of the blog will cover why you will love investing in quartzite for your home.
Pros of Quartzite
1.
Durability
The hard and dense stone does more than look beautiful. The conditions under which it forms also make it a very durable naturally-occurring stone. Resistant to chipping, staining, and scratches, quartzite can also withstand heat. If you need a stone to use for your kitchen countertop, quartzite can be an exceptional choice.
2.
Natural Beauty
Featuring a wide array of colors from deep blue to green, red, pink, and more, quartzite is valued for its beauty. Its veiny and bold patterns riddled with quartz crystals make it one of the most visually stunning materials to use in your home.
3.
Low Maintenance
Besides resealing it due to its porosity, quartzite happens to be an incredibly low-maintenance material. It is resistant to chipping and can withstand some rough use as a kitchen countertop stone. When properly sealed, quartzite is also stain-resistant. You can easily clean up the material by wiping it with a damp cloth. If you have a quartzite countertop in your kitchen, you will not need specialized cleaning products to keep the countertop in pristine condition.
4.
Versatility
Due to its hardness, durability, and natural beauty, quartzite is also exceptionally versatile. Commonly used for bathroom vanities and kitchen countertops, you can also use it for flooring and wall cladding. Many homeowners have also started using it as an ideal material to pave the area surrounding pools and for their patios.
5.
Abundance of Color Options
If you're tired of the same old drab surfaces and designs, you'll be happy to know that quartzite presents you with an array of color options. Of course, you have your grays, whites, and beiges, but quartzite also comes in many unique color variations. These include pink, blue, yellow, and botanic green.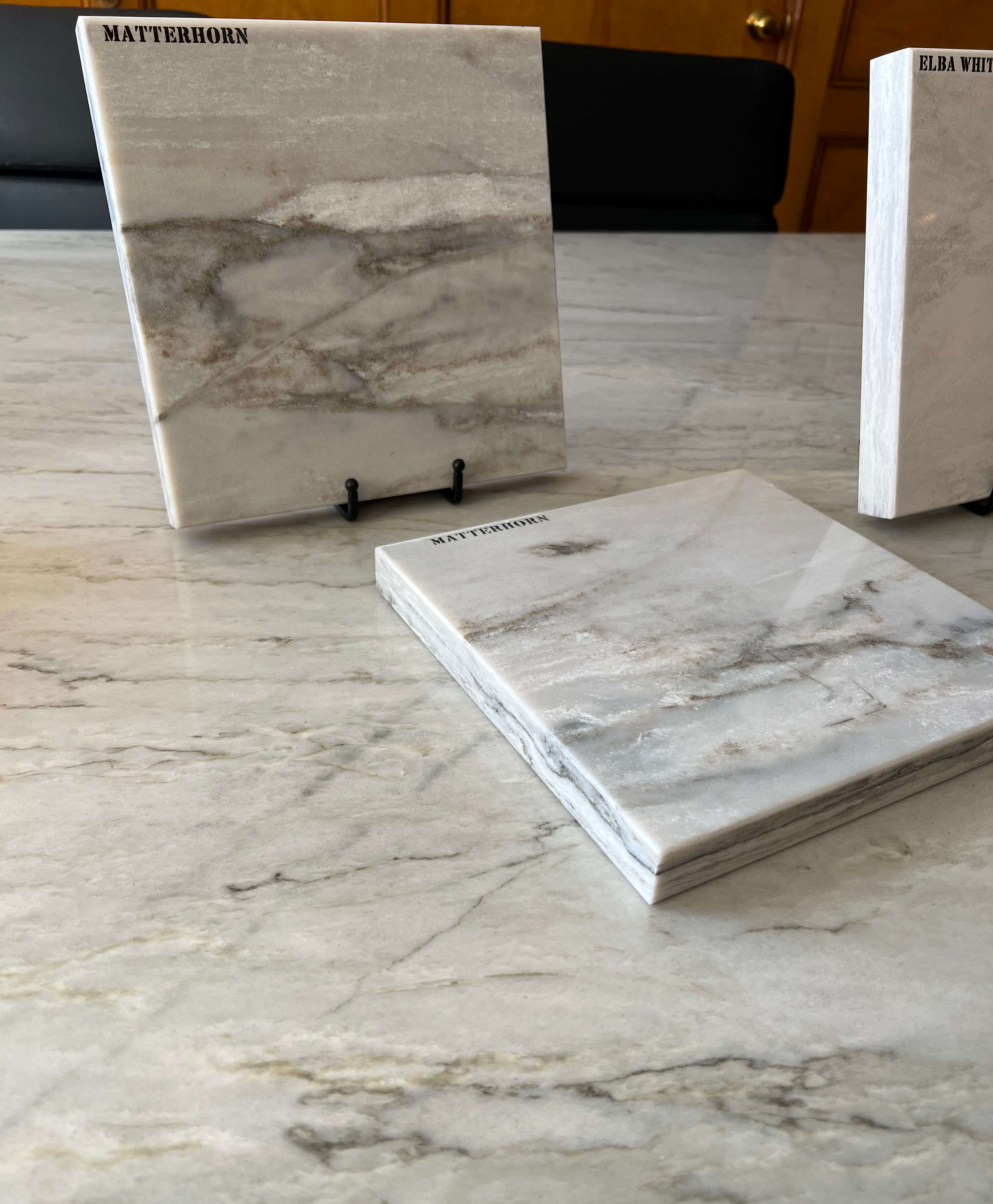 Cons of Quartzite
Despite all its positive qualities, quartzite has its fair share of drawbacks. When deciding on materials while remodeling your home, knowing the good and bad is essential to making the right investment. This section of the blog will cover the cons of using quartzite to help you make a well-informed decision.
1.
It is Expensive
Quartzite is a naturally-occurring stone that is a popular material for countertops, but it is incredibly expensive. This premium natural stone tends to cost more than marble and granite. Depending on the quality of the stone and the location of the quarry, a quartzite countertop can be a costly investment for your home.
2.
Quartzite is Porous
With its texture giving it a beautiful aesthetic, it also comes as a drawback for quartzite. Quartzite is a porous material susceptible to staining from various liquids and oils. To keep it in excellent condition, you must seal it properly and keep it well-maintained to make it last. While it only requires resealing once a year, it is a hassle to keep quartzite countertops in good condition.
3.
Installation is Challenging
Formed in immense heat and pressure under the Earth's surface, quartzite is also a highly dense material. While its density makes it hard and durable, it also makes quartzite very heavy. Due to its weight and hardness, quartzite is more challenging to install. Since it requires specialized tools and training, installing quartzite is a major hassle compared to most other materials.
Matterhorn | A Quartzite Alternative With All the Benefits Without Any Drawbacks
Thanks to all its good qualities, it is only natural for quartzite to become increasingly popular in most modern homes. However, its expensive price, porosity, limited color options, and difficulties with installation can make any homeowner wary of investing in it. Granted, it can be worth the investment despite its cons. Still, there is a better alternative to quartzite available for your home right here at Hyundai L&C.
Hyundai L&C's Matterhorn Quartz is an engineered stone that features everything that makes people fall in love with quartzite but without any of the drawbacks. Created specifically to bring you the best of quartzite's qualities without the hassles that come with it, HanStone Quartz has a rugged yet refined design. The material blends a bold, veining pattern with dynamic colors to create a look that resembles the popular Sea Pearl quartzite color. Our HanStone Quartz is easier to maintain than quartzite while offering enhanced durability and hardness.
Resistant to heat, bacteria, stains, chipping, and scratching, this can be the perfect new material for your next remodeling project. Contact us today to learn more about HanStone Quartz.
Hyundai L&C Colors
Colors to complement Every Lifestyle
Life is too short to be boxed in. Whatever your personality, there's a perfect color for you. Endless options to complement any space, and to let you be you. Explore our HanStone Quartz and Hanex Solid Surface colors today.