Updating a Mid-Century Design with 21st Century HanStone Quartz
Ask any designer or builder, and they'll tell you that working for friends is impossible and working for family is even more challenging. But that's precisely where James Judge, a successful Phoenix realtor, and designer, found himself with his latest project.
The client had just purchased her next home in Phoenix's original "luxury high-rise condo," built in the 1960s. The goal was to accentuate the building's striking mid-century design elements while improving the sightlines and flow of the space. James was under a bit of extra pressure on this project; he has a clear view of the balcony since it's less than three blocks away from his home. We should also mention that the family member client is his mom.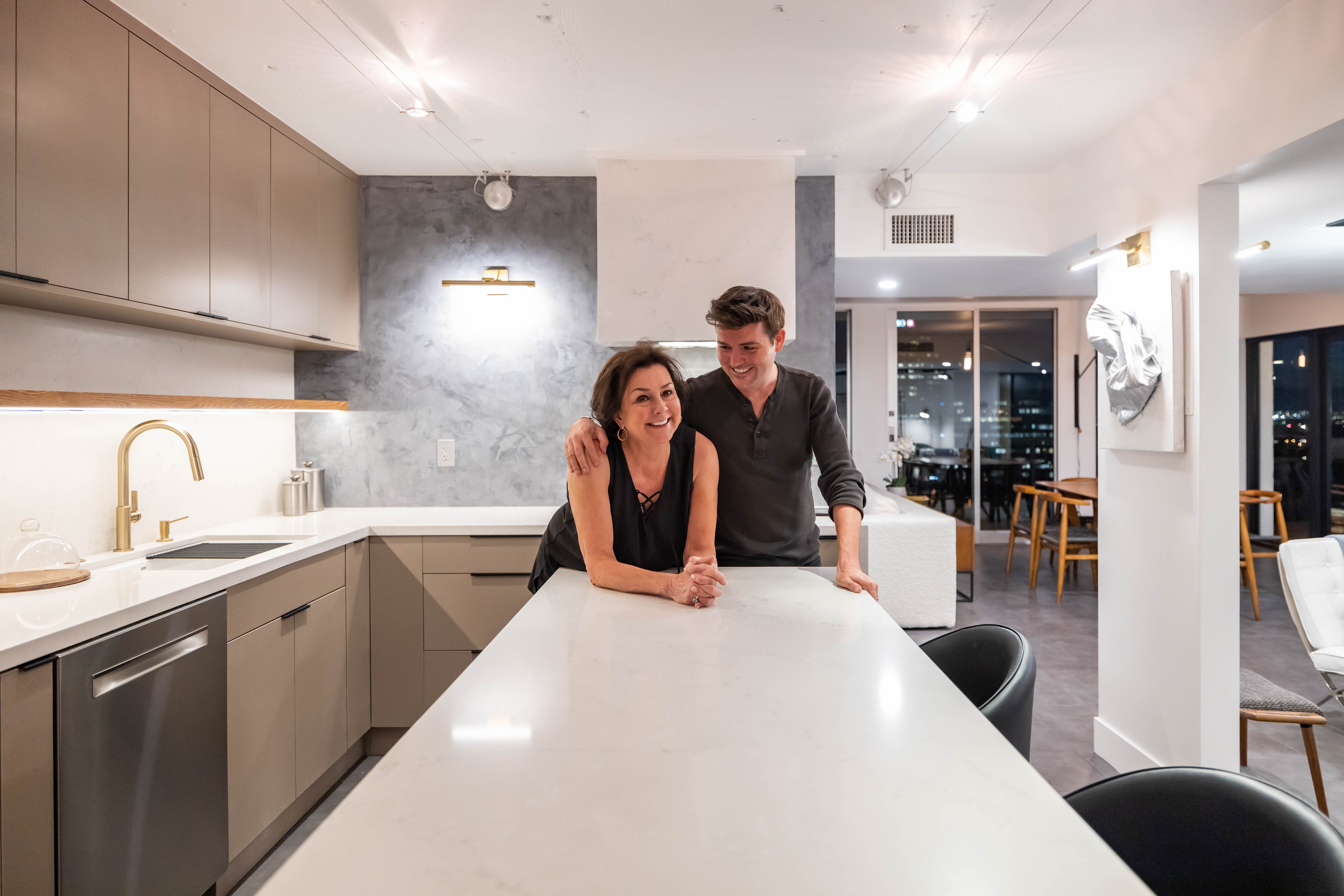 The first step was to remove a few walls, to expand the kitchen footprint for maximum counter and storage space. Next, the existing tile floors and sink location were incorporated into the new design, and the remaining walls and ceiling received only a fresh coat of white paint to keep construction costs down.
To keep the design modern and elegant, James opted for sleek flat panel cabinets featuring a gray/taupe color scheme with a subtle textured pattern. The much-improved galley kitchen design centerpiece is a stained walnut island with a waterfall edge on one end. The dark finish is a nod to the original mid-century building design, while the waterfall detail adds some unique modern flair. Besides providing additional seating and much-needed workspace, the island also features a built-in microwave to minimize counter clutter. A cabled lighting system and stainless-steel appliances further accent the mid-century theme.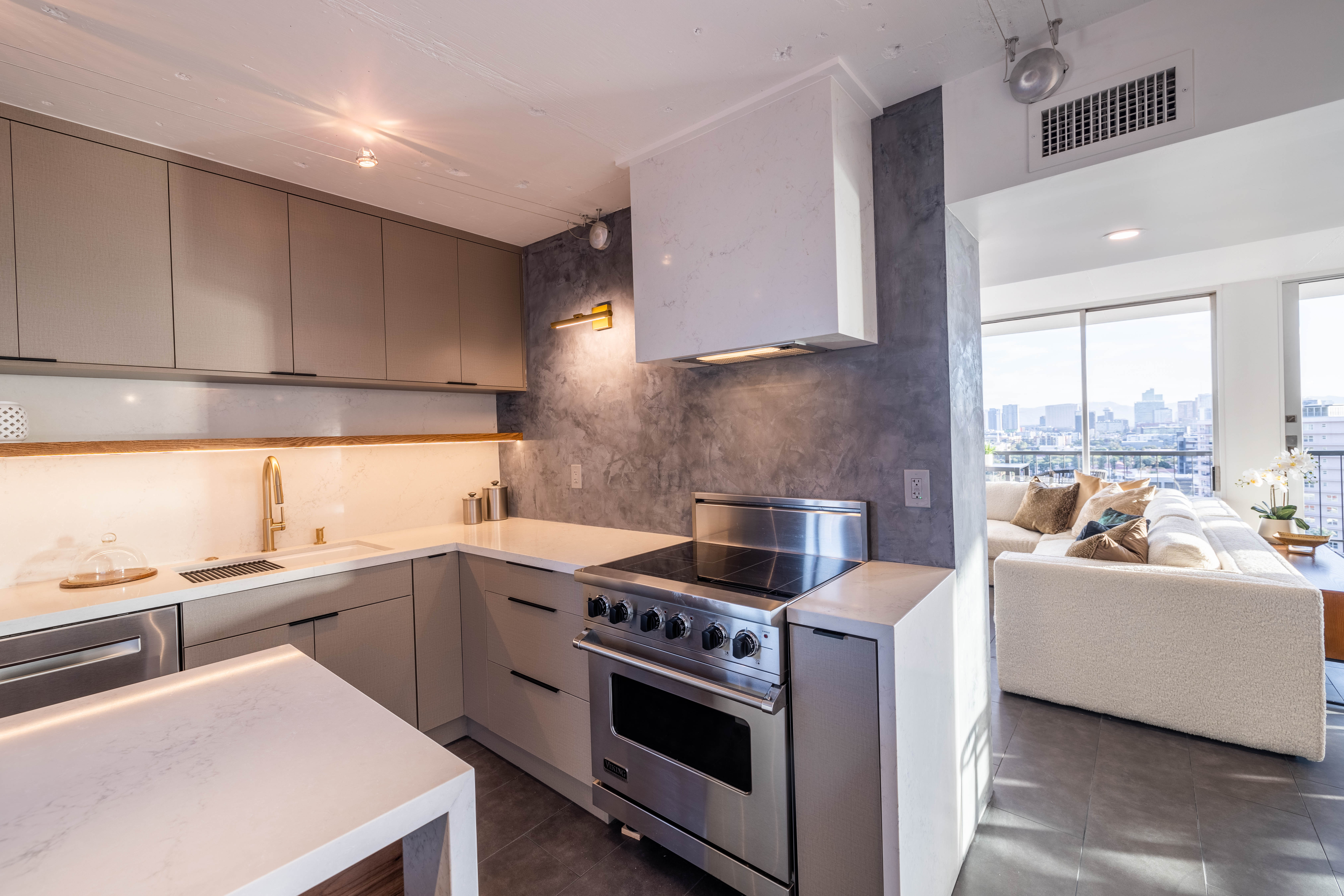 For the countertops, James chose HanStone Montauk, a softly marbled pattern to add warmth and a touch of cozy to the hardest working room in the home. HanStone provides the toughest countertop surface scoring a 7 on the Mohs Hardness Scale, compared to granite at 6 and marble (3-5), but why stop there?
James elevated the project design by using the same HanStone Montauk material for the backsplash, continuing up the bottom of the upper cabinets. The (so-easy-to-clean-its-ridiculous) quartz surface creates a cohesive and seamless look from counter to the wall, adding to the modern and elegant redesign.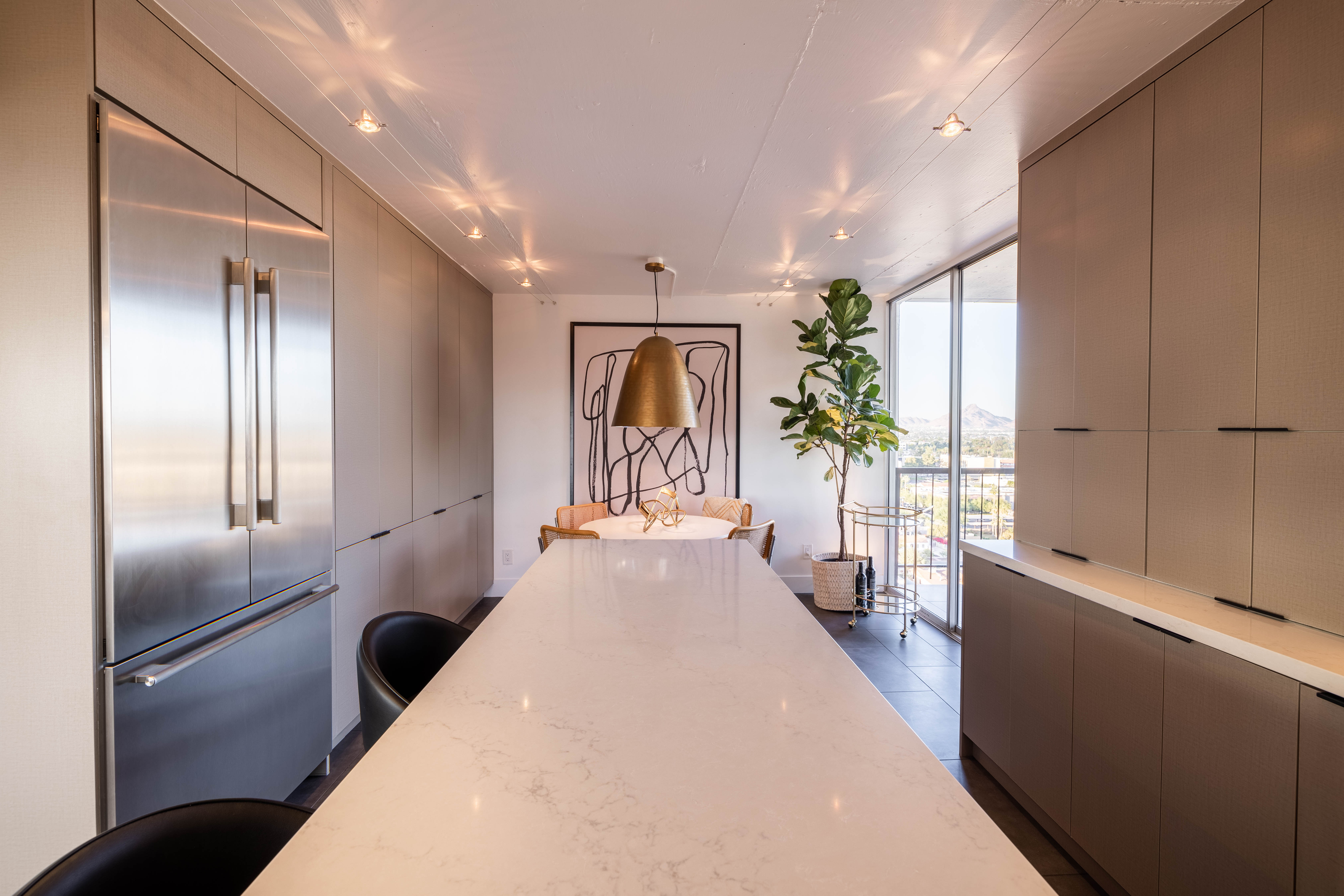 Still looking for that final crowning touch, remember the client is his mom; James wrapped the exhaust hood shaft with the same HanStone Montauk quartz material. The results are simply spectacular compared to the usual stainless-steel choices and add yet another understated touch of elegance. James said the quartz-wrapped exhaust hood is one of his favorite design highlights from this project, and mom loves it too!
You can see more project details and photos on James' website.
Hyundai L&C Colors
Colors to complement Every Lifestyle
Life is too short to be boxed in. Whatever your personality, there's a perfect color for you. Endless options to complement any space, and to let you be you. Explore our HanStone Quartz and Hanex Solid Surface colors today.