At Home with Ashley – One Room Challenge
After 10 weeks of planning, designing, building, and stressing – the One Room Challenge is officially over! The One Room Challenge®, currently in its twentieth season, is a widely anticipated event every spring and fall. Each round, twenty design influencers are selected to take the challenge, as Featured Designers, and transform a space. The One Room Challenge is not a competition, but rather a celebration of creativity, inspiration, and original ideas.

For this year's Spring One Room Challenge, HanStone Quartz was super excited to partner with Ashley, an interior designer from Utah who uses her blogging platform, At Home with Ashley, to share home décor tips, renovation ideas, and all-things interiors. "I am passionate about creating a beautiful home and life all while helping you do that same, says Ashley."
"I feel like I'm worse for wear after working my tail off for this kitchen. But it's here! My cozy, colorful, kitchen is done! I dreamed of a space that felt like an English cottage - warm and comfy. Where you could cook and have the best conversations. And sit and enjoy the company for a long time," says Ashley.
Before it was this beautiful, colorful dream space, the kitchen was brown on brown. The floors were brown, the cabinets were brown, the trim was brown, the walls were a sage green color, and light was limited. Ashley had spent the last three years, putting band-aids on this kitchen but knew those were temporary "fixes" and was waiting for the right time to do a complete renovation. Fast-forward to February 2021 when One Room Challenge called. "Linda [from the One Room Challenge] invited me to participate as a featured designer! This meant I'd be able to have the resources to properly redo the kitchen! I was pumped," says Ashley.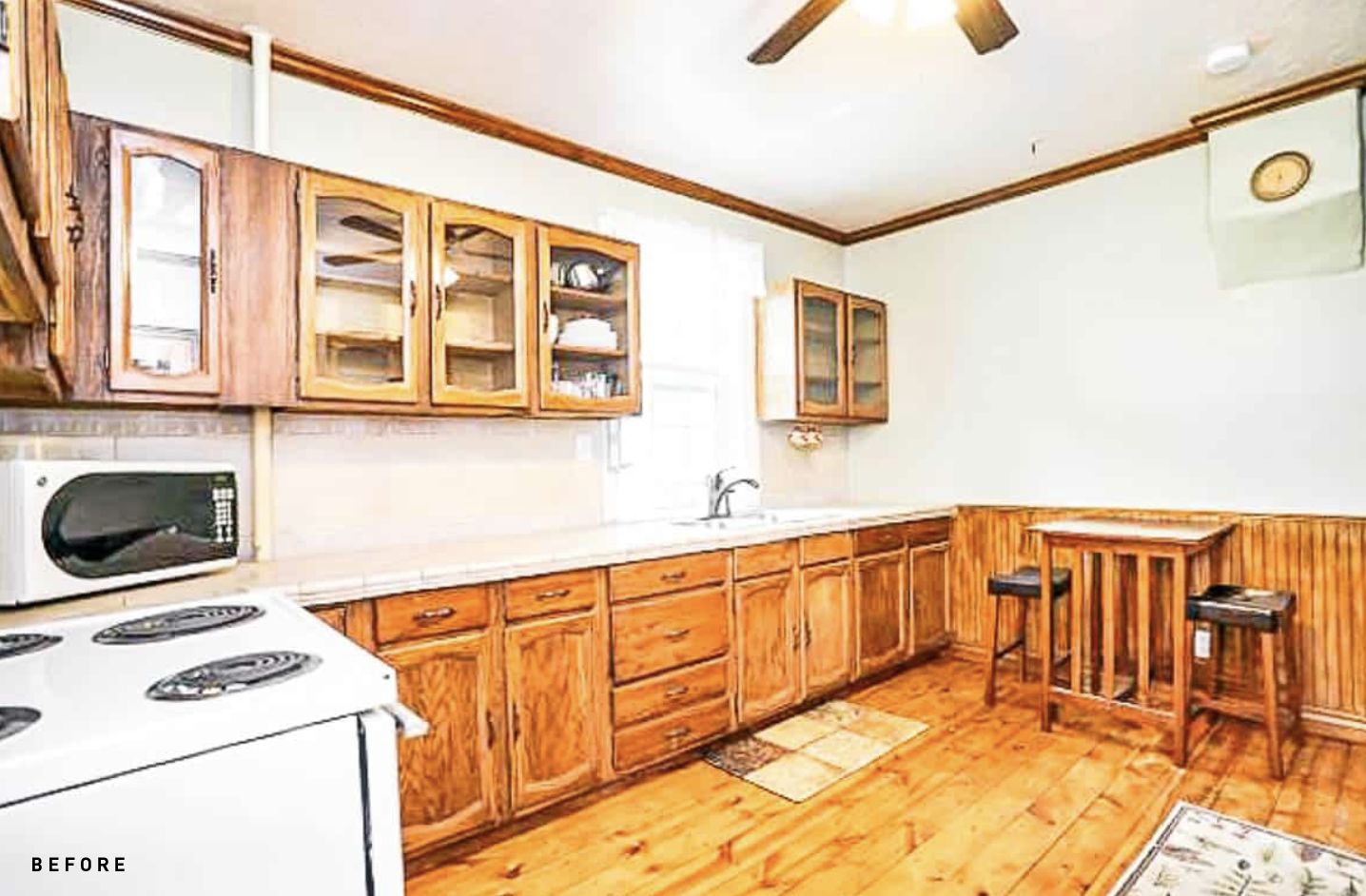 Ashley set five main goals for her kitchen. She wanted to have durable finishes, seat six at the table, add a dishwasher, stay true to the architecture of the house, and lighten up the room. So, after jumping over a few hurdles Ashley made it to the finish line. "I'm so happy and I'm proud that I stuck to my goals," says Ashley.
The kitchen is now a colorful dream, with bright white cabinets, HanStone Quartz Calacatta Gold countertops, gorgeous wood floors, and copious amounts of whimsical accents that give this kitchen so much character.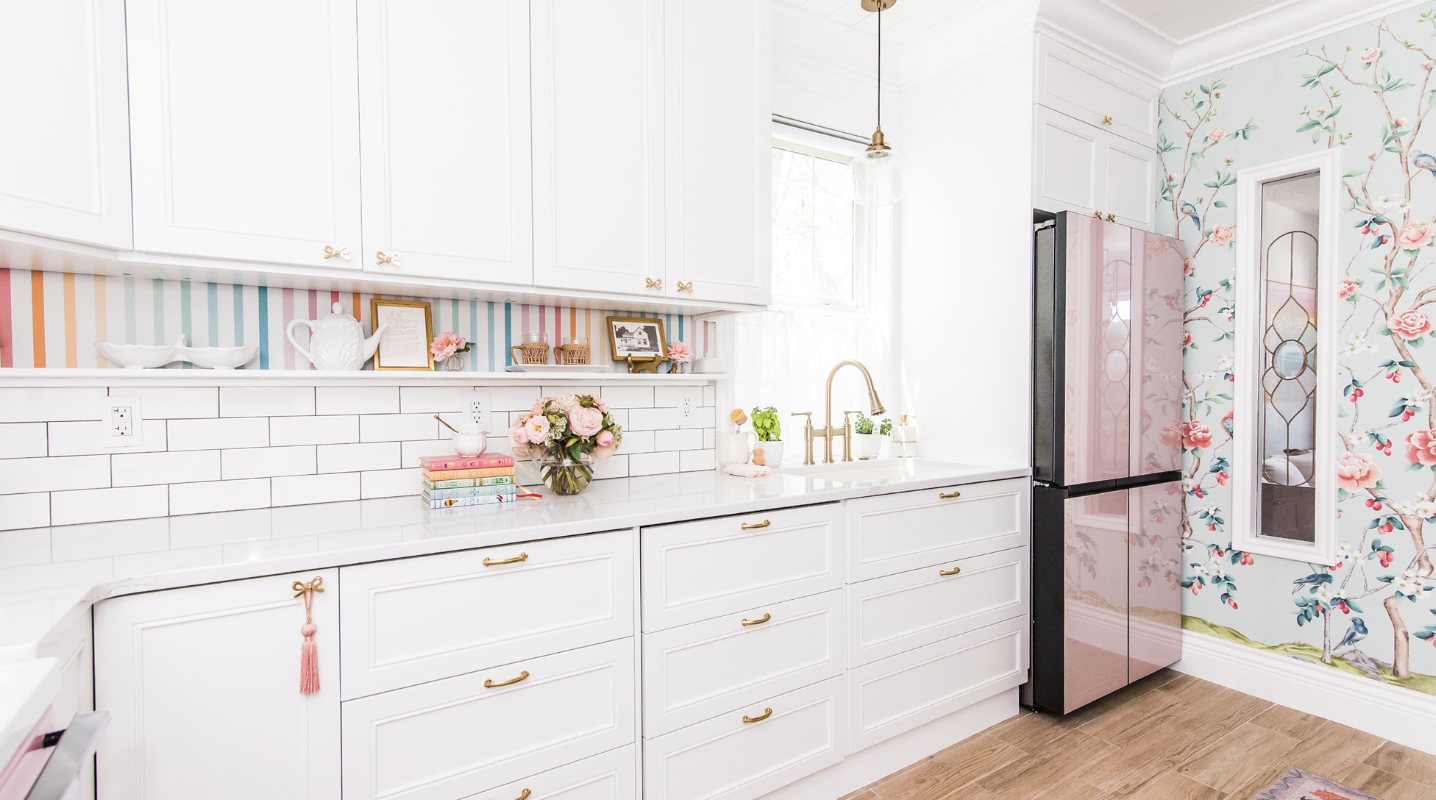 Color is king in this kitchen renovation. One of the biggest pops of color is the light pink refrigerator that gives this kitchen such a unique feel. Add in the rainbow stripe wallpaper over the floating shelf, gold hardware, and unique décor as this kitchen comes to life.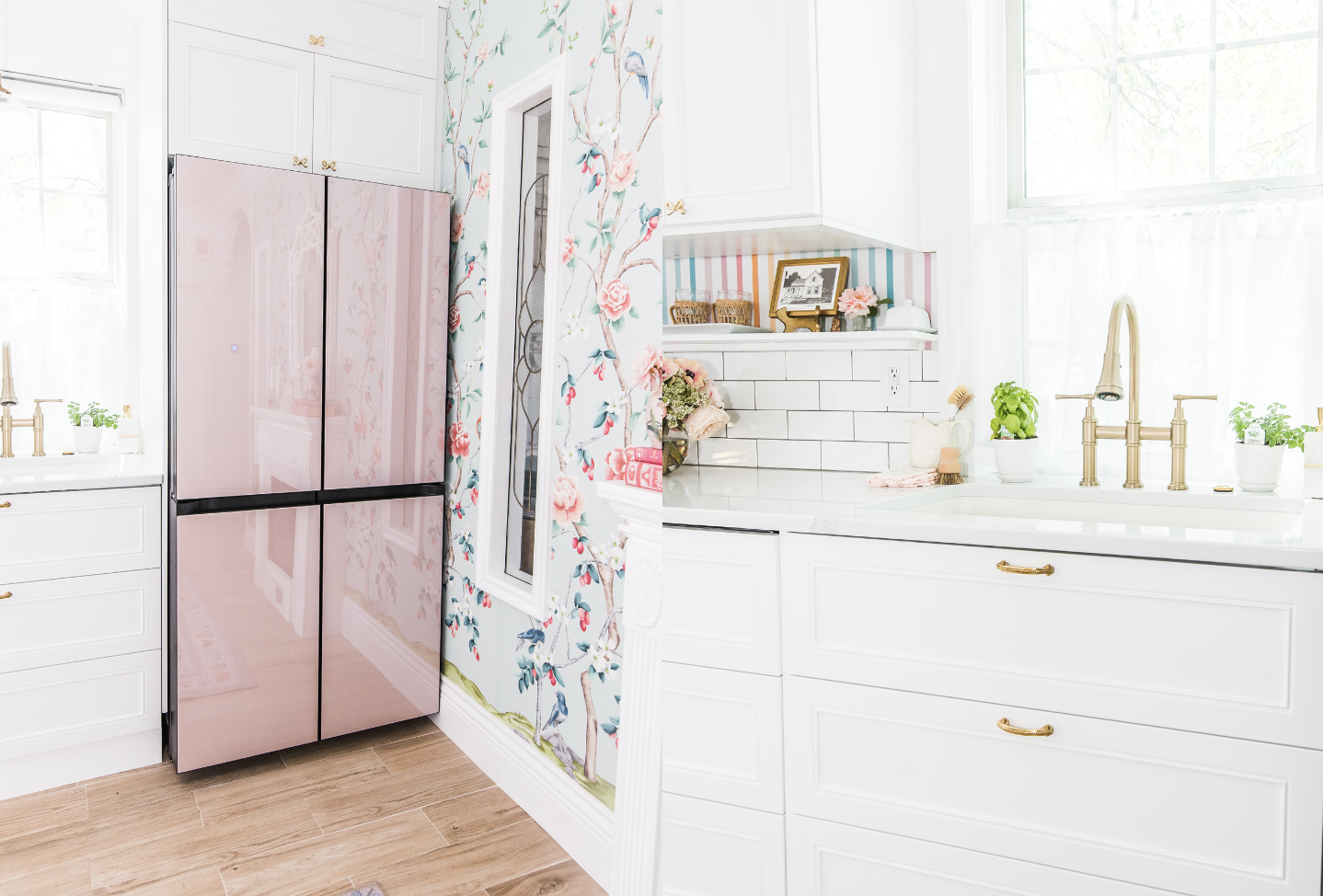 Balancing out all the color is the HanStone Calacatta Gold quartz countertops. This white quartz countertop with beautiful light grey veining compliments this space and all the beautiful touches Ashley has put in place. "HanStone Quartz is a high-quality material, and it feels clean and pristine in the space. The countertops make the whole room feel finished, clean, and high end. I love wiping my countertops at the end of the day because they're just so pretty," says Ashley.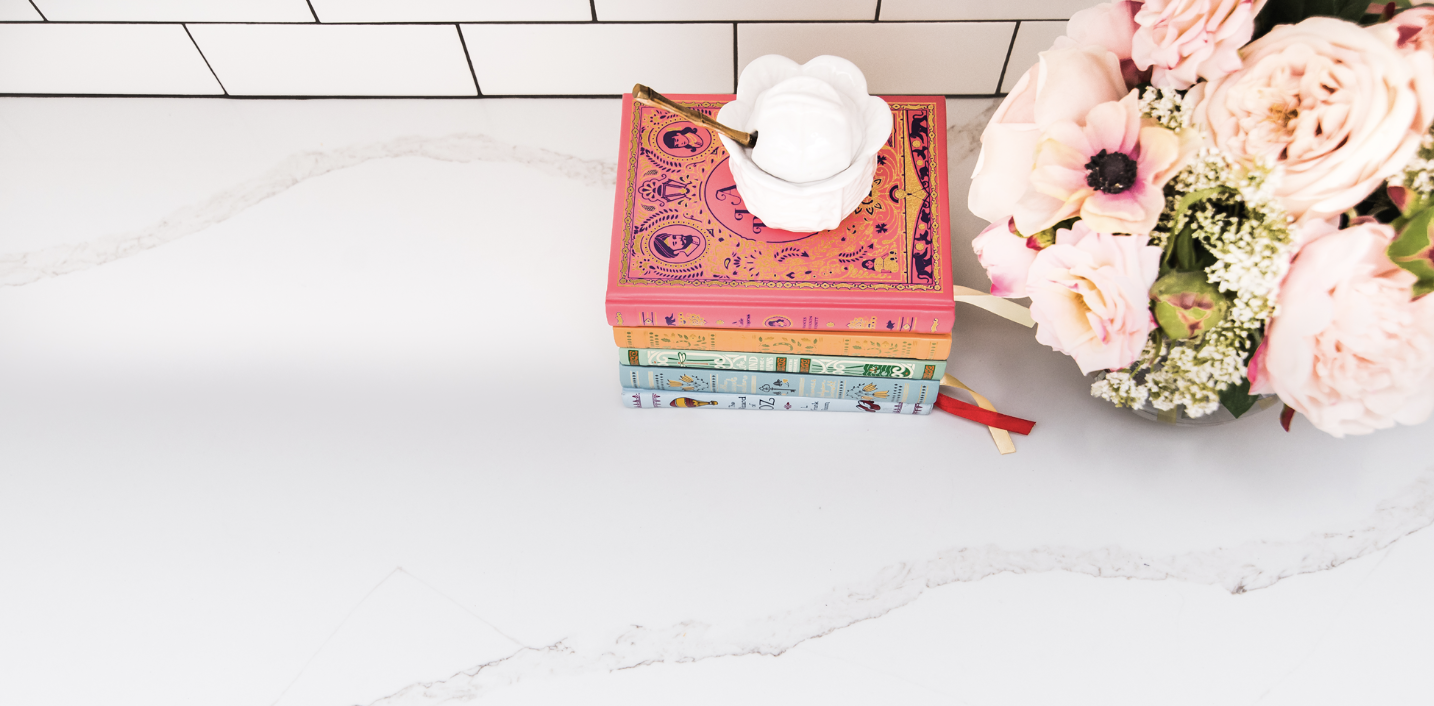 To learn more about Ashley, click here. To learn more about HanStone Quartz or to order a sample, click here.
Hyundai L&C Colors
Colors to complement Every Lifestyle
Life is too short to be boxed in. Whatever your personality, there's a perfect color for you. Endless options to complement any space, and to let you be you. Explore our HanStone Quartz and Hanex Solid Surface colors today.