Exploring Hanex Solid Surface – A Blend of Aesthetics and Functionality
The quest for premium materials that seamlessly blend aesthetics with functionality is never-ending. Designers and architects constantly seek materials that captivate the eyes, last long, and are practical for everyday use.
Whether for homes or commercial spaces, picking the best materials is crucial in creating stunning and functional environments. As design evolves, new and exciting solutions continue to surface, raising the bar for excellence.
Let's explore one such surface material that has been captivating the design world with its exceptional qualities and versatility - Hanex Solid Surface. This remarkable acrylic material combines aesthetics and durability, making it a preferred choice for various applications, from kitchen countertops to stylish wall claddings.
Hanex Solid Surface at a Glance
Hanex Solid Surface is a premier acrylic material that has made quite a name in interior design and architecture. It is a precisely engineered material crafted from a sophisticated blend of Methyl Methacrylate (MMA) and Poly Methyl Methacrylate (PMMA) resin, fortified with Alumina-Trihydrate and specialized formulas. This combination results in a unique composite that seamlessly balances strength and beauty, making it a favorite choice for a wide range of applications.
Traits and Benefits of Hanex Solid Surface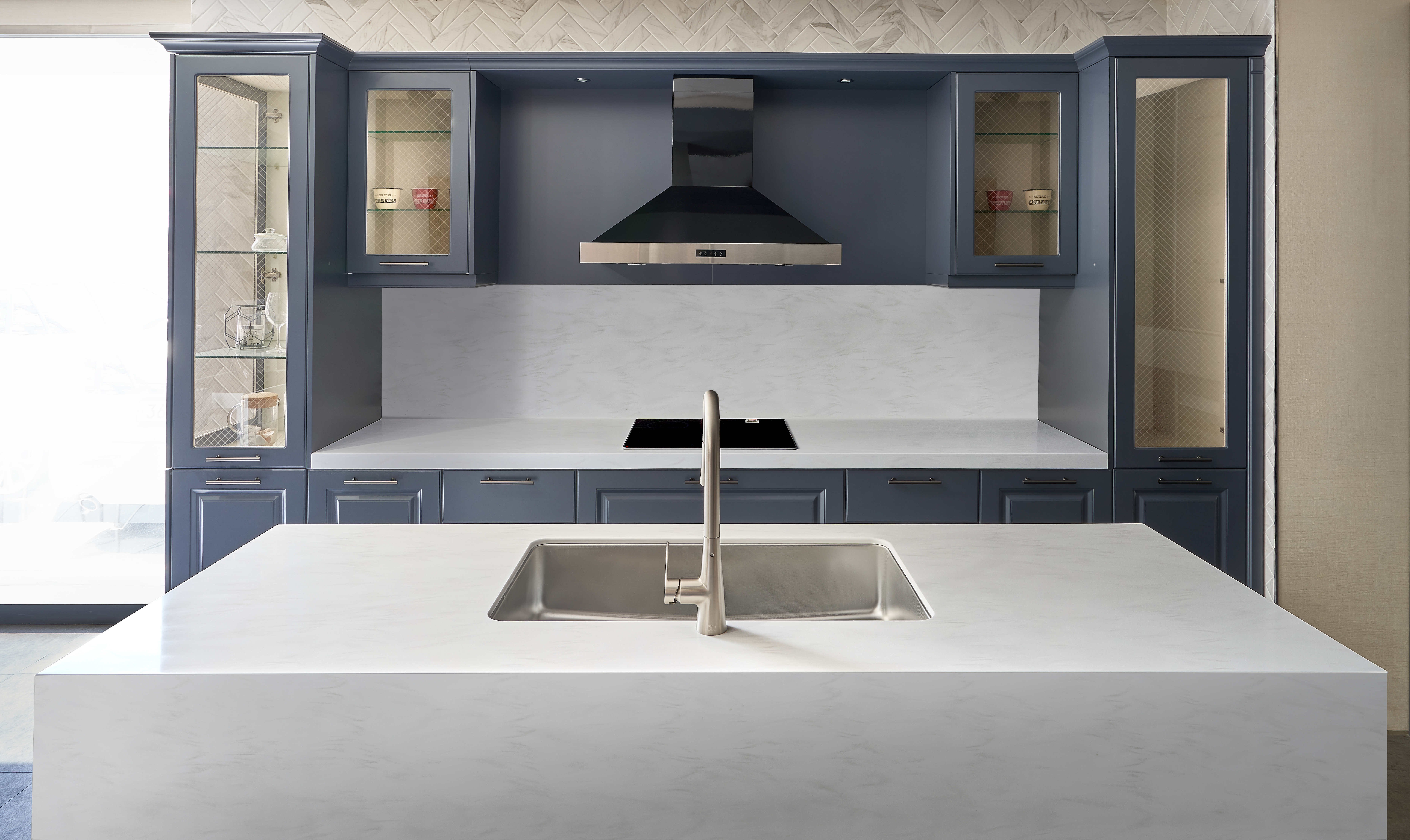 Hanex Solid Surface exhibits remarkable traits and benefits that have propelled it to the forefront of the interior design and architecture industries. From its outstanding performance to its aesthetic advantages, Hanex is a versatile and highly sought-after material. Let's explore a few traits and benefits that make Hanex Solid Surface a preferred choice for a wide range of applications.
Radon Free
Radon, a naturally occurring radioactive and carcinogenic gas, can infiltrate buildings and pose health risks when present at elevated levels. Unlike materials like concrete blocks, Hanex Solid Surface is radon-resistant. This not only enhances indoor air quality but also provides peace of mind for architects, builders, and homeowners, aligning with a commitment to safety, health, and sustainability.
Easy Maintenance
Hanex Solid Surface offers the benefit of low maintenance. Its durable and resilient nature reduces the need for extensive upkeep. Unlike other materials that may require frequent attention, Hanex maintains its appearance with minimal effort, making it an ideal choice for those seeking surfaces that are both attractive and easy to maintain.
Easy Fabrication
Hanex Solid Surface's ease of fabrication is a boon for designers and contractors. Unlike other materials requiring specialized skills or complex equipment for cutting, shaping, and joining, Hanex can be easily worked on using standard woodworking tools and techniques.
This simplicity in fabrication translates to more efficient and cost-effective installations. It also allows for greater design flexibility, as the material can be customized and tailored to suit unique project requirements, making it an attractive option for complex and innovative designs.
Cost-Efficient
Despite its premium qualities and stunning aesthetics, Hanex Solid Surface remains a cost-efficient choice for various applications. Its reasonable price point compared to other high-end materials offers cost savings without compromising quality.
The exceptional durability and low maintenance requirements of Hanex contribute to long-term cost-effectiveness. The material's resistance to scratches, stains, and impacts reduces the need for frequent repairs, saving time and money in the long run.
Antibacterial Properties
Hanex is known for its strong antibacterial properties that keep surfaces clean and safe. It stops harmful bacteria from growing, making it perfect for places like hospitals and kitchens. Hanex is special because it has no seams where bacteria hide, and it lasts a long time. This makes it great for places where cleanliness matters most.
A Platform for Creativity
Hanex has caught the attention of the best designers and big architectural companies from all around the world. People everywhere are using it to turn imaginative ideas into real designs you can see and feel. It helps designers turn their dreams into reality, and create surfaces are stunning and practical.
In a nutshell, Hanex isn't just a material – it's a canvas for creative minds. It's makes ideas come to life, making architecture more incredible and environment-friendly.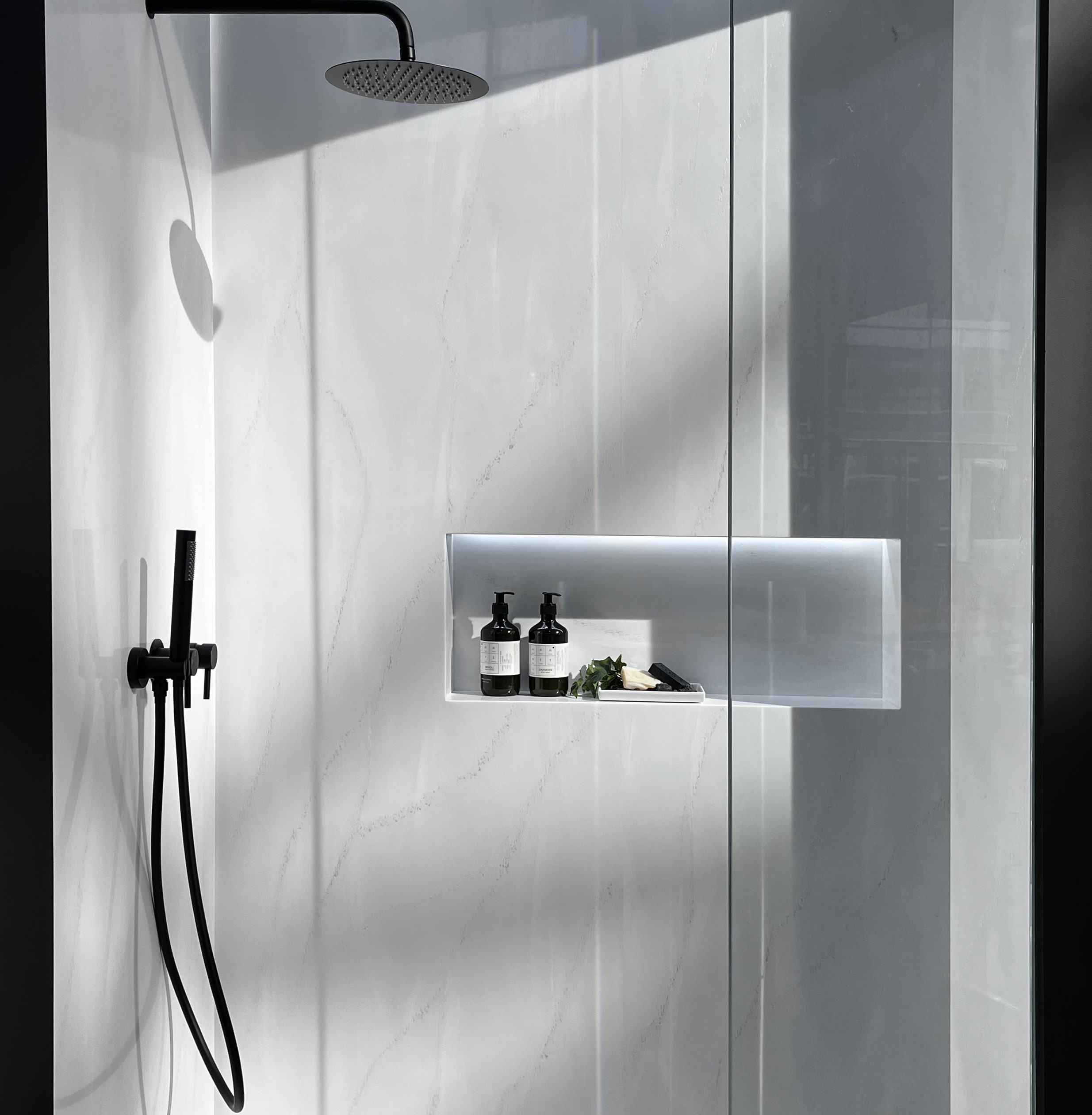 Hanex Application
Hanex Solid Surface's versatility and exceptional qualities make it a sought-after material for various interior design and architecture applications. Its seamless blend of strength, beauty, and functionality enhances various residential and commercial spaces. Let's explore some of the key applications where Hanex Solid Surface excels:
Kitchen Countertops
Bathroom Vanities
Wall Claddings
Furniture
Reception Desks
Retail Displays
Public Spaces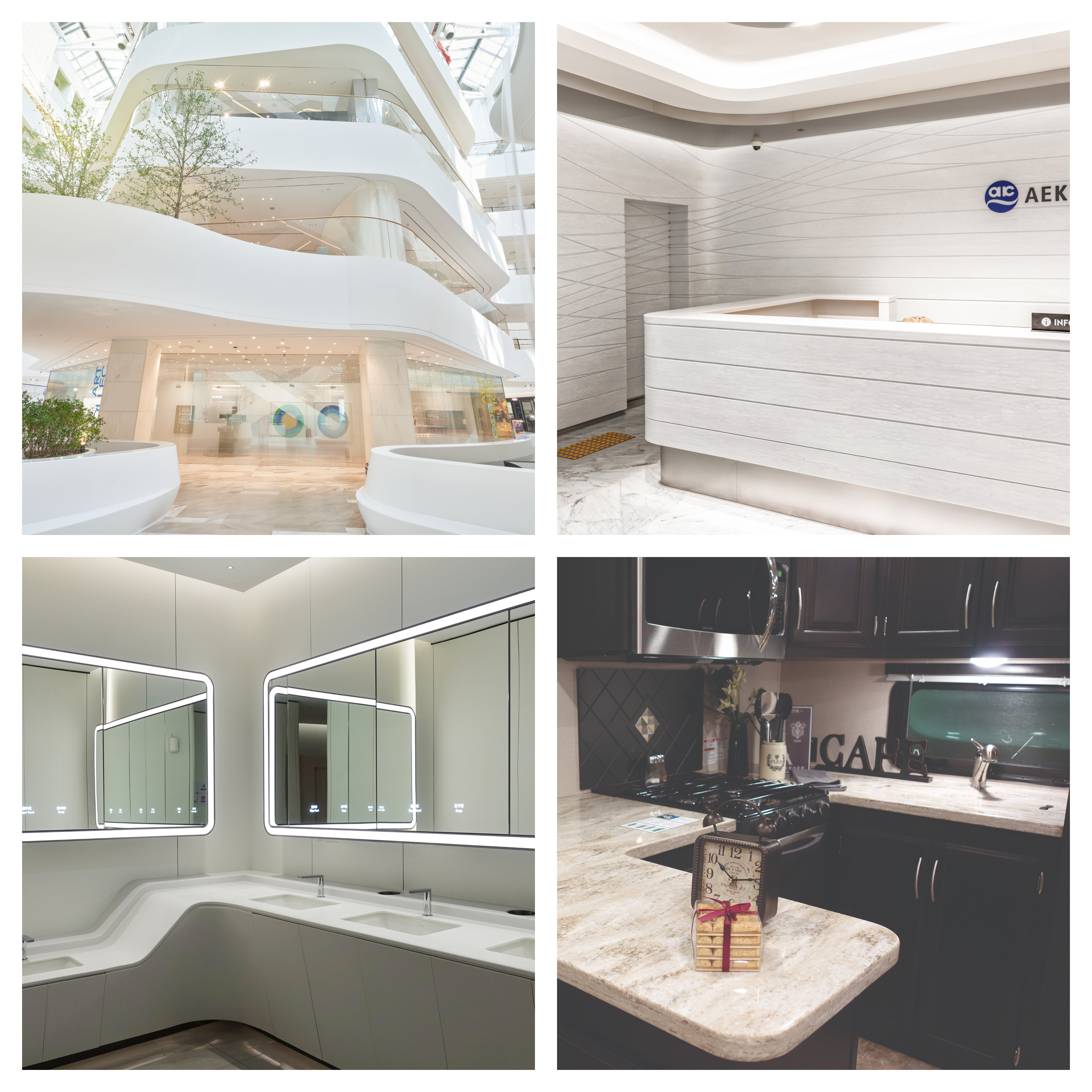 Final Thoughts
Hanex Solid Surfaces emerge as a true game-changer in the world of interior design and architecture. Their seamless blend of aesthetics and functionality makes them an exceptional choice for various applications.
For designers, architects, and homeowners seeking to leave a lasting impression with their projects, Hanex Solid Surfaces offer a reliable and versatile material choice. From kitchens and bathrooms to commercial and public spaces, Hanex enhances spaces with timeless elegance, durability, and practicality.
As a leader in premium acrylic solid surface materials, Hyundai L&C USA inspires designers, architects, and homeowners alike with their unwavering commitment to quality and innovation. Get in touch with them today to explore the endless possibilities of Hanex Solid Surfaces for your next interior design project.
Hyundai L&C Colors
Colors to complement Every Lifestyle
Life is too short to be boxed in. Whatever your personality, there's a perfect color for you. Endless options to complement any space, and to let you be you. Explore our HanStone Quartz and Hanex Solid Surface colors today.