The Future of Countertops: Innovative Materials and Design Trends on the Horizon
The Future of Countertops: Innovative Materials and Design Trends on the Horizon
Countertops are a key element in a kitchen, with the power to elevate and breathe new life into the space. With new colors and material fabrications being churned out every year, a seemingly endless array of countertop options are available, making it especially difficult to find the one that fits your aesthetic and lifestyle. Here we explore some of the most popular countertops trends rising above the others to help inspire your kitchen design choices. Let's get started!


Quartz Still Reigns Supreme
With an appearance similar to granite, engineered quartz is still a popular choice for countertops thanks to its ease of maintenance and high durability. It all comes down to fabrication with quartz countertops made with a non-porous surface.
This is where natural stones fail in the run. Materials like granite have a porous surface that must be regularly sealed over its lifetime. If not, it is prone to staining as the sealant is off, which can ruin its appearance. Furthermore, it is the ideal surface for bacteria to breed, which is not what you want when preparing your food. Thankfully, you won't have any of these problems with quartz!
Additionally, quartz has many more colors, patterns, and finishing options that beautifully mimic natural stone yet are completely unique. You can tailor the style and size you want for your kitchen.
Fabricators continue to improve their manufacturing techniques with stronger, more durable quartz, keeping this material at the top of every countertop list!
Dramatic, Dark Colors
Kitchen countertops are going to their own sort of gothic revival with dark, moody colors spiking in demand. Depending on the natural lighting in your kitchen, you can take your kitchen design to the extreme using dramatic colors throughout, contrast with light cabinetry, or create a focal point on your kitchen island.
Black stone, dark quartz, Corian, and Hanex counters in dramatic hues, from slate gray to inky black, look sleek and sophisticated for a modern appeal. Furthermore, they are the perfect backdrop for decorative elements such as flowers, linens, and dishes, heightening the contrast so accenting colors pop.
Statement Patterns and Veining
Statement countertops are a major trend this year as homeowners want to add more character to their kitchens. Creative manufacturing techniques have ushered in ranges of innovative countertop material with veining and speckling that resembles real stone, but that is just the tip of the design iceberg.
New materials offer even more varieties in veining swirl densities, speckling patterns, colors, transparency, and texture that can be paired with other kitchen elements such as backsplashes, floor, cabinetry, and walls. With some much room to mix and match, these new countertop patterns add pizazz and vibrance.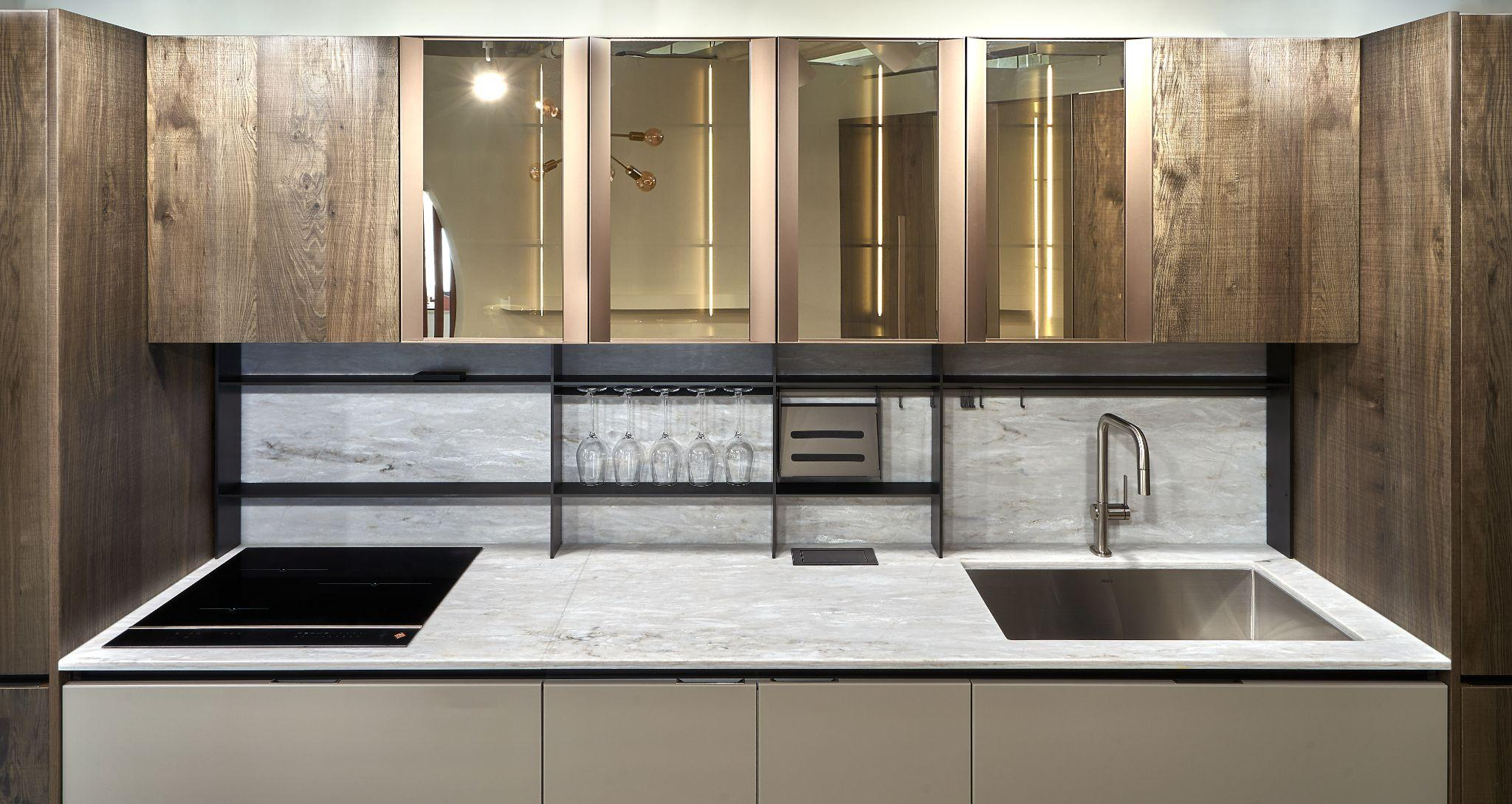 Matching Counters and Backsplash
Matching a kitchen countertop to the backsplash is another popular trend that continues to find its place this year. It takes the concept of these two elements essentially being extensions of each other, and by matching them, it is as though the counter is rising up the wall.
To get the right look, start by selecting your countertops first, then find the backsplash that matches for a consistent, contemporary feel. While backsplash tiles are available in practically every size, larger tiles provide a better overall look because there are fewer grout lines cutting through the design for a more continuous look.
Eco-friendly and Sustainable Material
Growing concerns about our environmental impact have encouraged manufacturers to develop new methods of creating countertops through sustainable, eco-friendly practices. Not only are these innovative countertop material fabrications beneficial to the environment, but they are also safer for you.
You see, eco-friendly countertops do not contain any harmful chemicals that can gradually seep into your food preparation and kitchen space to affect your health. It's a win-win! So it is no surprise that options made from recycled glass and other materials are projected to become more popular this year.
Waterfall Edges For All
A waterfall-edged counter is one where the countertop material extends beyond its supporting cabinetry and turns down 90 degrees to reach the floor. Done right, the countertop appears to be one continuous piece that elegantly flows down.
A popular choice for kitchen islands, waterfall edges are more visually striking and contemporary than straight counters adding a luxurious element to your kitchen. Also, you now have a great space to artistically feature unique materials for a serious statement that grabs everyone's attention.
Smooth Curves Around Counters
Curves are a structural aesthetics and silhouette that softens lines that are being integrated more and more in all parts of homes today. In a kitchen, a curved countertop has a more organic feel that is both practical and pleasing to the eye.
Not only does removing the pointed corners lower the chances of being poked, but it also enhances the flow and the hospitality of the space. Fluted kitchen islands that marry scalloped wooden bases with rounded countertops feel more welcoming and invite people to gather around.
Integrated Sink
Integrated sinks are made out of the same material as the countertop and are fused down for a seamless design where the space looks like one. Unlike traditional dropped-in sinks, no caulking or sealing is necessary, making it nearly maintenance-free for extremely easy cleaning.
Furthermore, an integrated sink can blend in better for a more minimal look that does not disturb or distract from the beauty of the countertop material.
Additionally, there is much more room for customization where you can specify the shape and dimensions precisely as you need. However, such a sink needs to be created by a trusted manufacturer to ensure quality.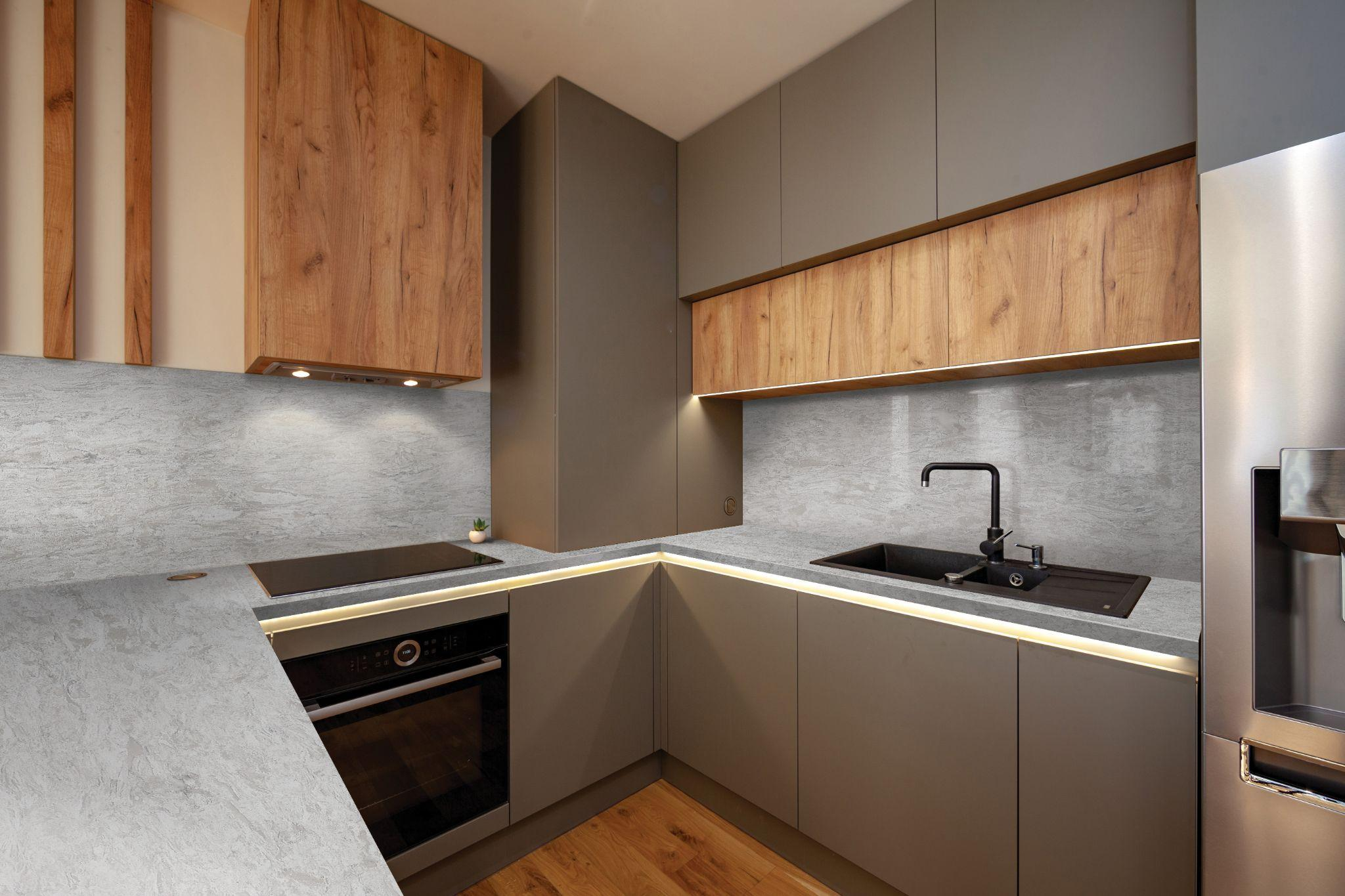 Look to Hyundai L&C for More Countertop Ideas
If you are looking for more inspiration or information on the latest countertop material fabrications available, look no further than Hyundai L&C. Our most recently launched color for HanStone Quartz, the Opimo Collection, is a revolutionary innovation that captures nature's variety and depth. With cutting-edge technology, Opimo designs boast unparalleled depth and translucent qualities, setting new standards in quartz surfacing. Visit our website to explore our range of countertop material, or contact us today for more information!
Hyundai L&C Colors
Colors to complement Every Lifestyle
Life is too short to be boxed in. Whatever your personality, there's a perfect color for you. Endless options to complement any space, and to let you be you. Explore our HanStone Quartz and Hanex Solid Surface colors today.